Don't be a "practical atheist." Listen below to my homily from the Archdiocese of Louisville's inspiring 2018 Catholic Women's Conference:
Conversations is a monthly, 30-minute television show in which I participate in an ongoing conversation about the Archdiocese of Louisville, my involvement with the larger Church (both nationally and globally), and issues of faith in general. In the first segment from our March 2018 episode, Chancellor Dr. Brian Reynolds and I discuss recent questions from viewers.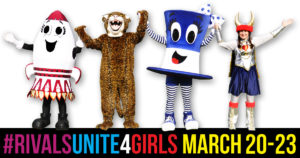 The #RivalsUnite4Girls annual fund challenge is a wonderful opportunity for alumnae of Assumption, Mercy, Presentation, and Sacred Heart to give back to their alma maters.
To kick off this four-day giving challenge, the presidents of all four high schools will go live on Facebook from the Archdiocese of Louisville's Pastoral Center two weeks from today on Monday, March 19.
#RivalsUnite4Girls concludes at midnight on March 23. Like last year, I am […]