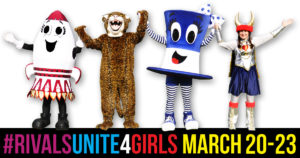 The #RivalsUnite4Girls annual fund challenge is a wonderful opportunity for alumnae of Assumption, Mercy, Presentation, and Sacred Heart to give back to their alma maters.
To kick off this four-day giving challenge, the presidents of all four high schools will go live on Facebook from the Archdiocese of Louisville's Pastoral Center two weeks from today on Monday, March 19.
#RivalsUnite4Girls concludes at midnight on March 23. Like last year, I am looking forward to announcing the winner of the 2018 annual fund challenge via video on your school's social media on March 27. I encourage all alumnae to take this opportunity to show your support for these four wonderful Catholic high schools that provide such great education and faith formation for young women.