Archbishop Kurtz keeps Catholics informed about the Church's response to sexual abuse and other issues of importance in the Archdiocese of Louisville.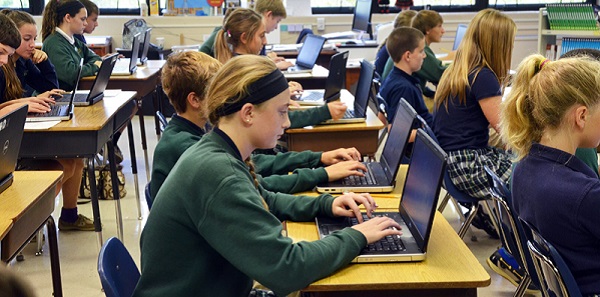 This is More Than an Education
Catholic Schools in the Archdiocese of Louisville provide 20,000 students with a unique environment that allows students to grow in their faith while performing at high academic levels in a community of dedicated educators, parents, and advocates.
Find a School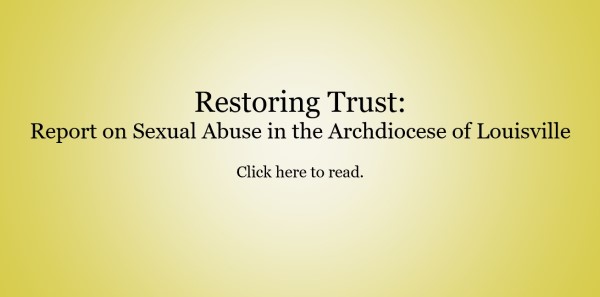 Restoring Trust: Report on Sexual Abuse
This report includes a list of credibly accused diocesan priests.  In addition to the report, we also are releasing a list of credibly accused religious order priests. This release is the beginning of a process of transparency.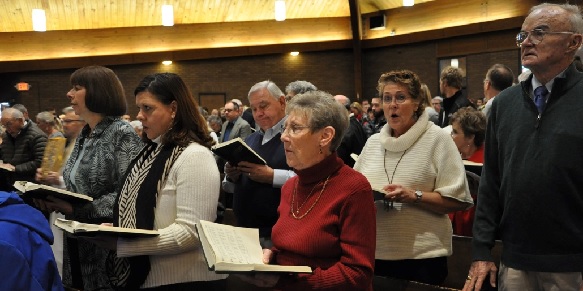 A Door That is Always Open to Everyone
All are welcome to explore the 110 vibrant and diverse parish communities in 24 counties throughout Central Kentucky. Find contact information, parish histories, Mass schedules and other information.
View Parishes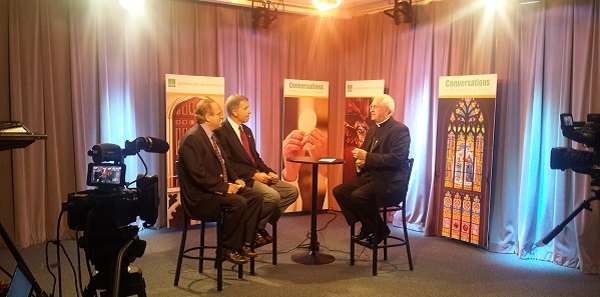 Conversations with Archbishop Kurtz
is a monthly, 30-minute television show in which Archbishop Kurtz participates in an ongoing conversation about the Archdiocese of Louisville, his involvement with the larger Church (both nationally and globally), and issues of faith in general.
Click Here to Watch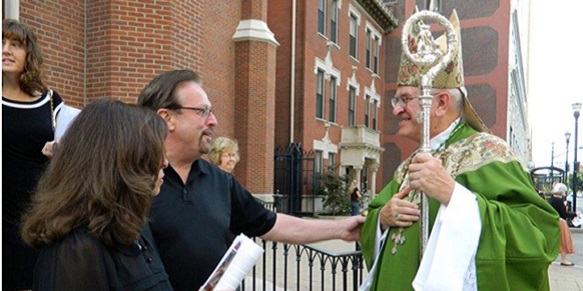 I grieve with the Sangalli family, the Saint Xavier High School community, the Xaverian Brothers,  Spalding University, Holy Trinity Parish, and all of the many individuals, families, and organizations that Dr. Perry Sangalli touched during [...]
By Ruby Thomas, Record Staff Writer At a time when hungry Kentucky families are relying on charitable assistance, St. Agnes Church's farmer's-market style Dare...
The post Market at St. Agnes feeds the hungry appeared first on The Record.
IMAGE: CNS photo/Lucy Nicholson, ReutersBy WASHINGTON (CNS) -- Catholic immigration advocates raised concerns about a proposal from President Donald Trump that would reshape U.S. immigration policy to incorporate a "merit-based" system that prioritizes high-skilled workers [...]
IMAGE: REUTERSBy Carol GlatzVATICAN CITY (CNS) -- People's attitudes toward nature as well as their economic systems and consumption habits need to radically change in order to protect biodiversity on the planet and promote a [...]
May 20, 2019 7:00pm - 9:00pm @ St. James, Elizabethtown
May 24, 2019 6:00pm - 7:00pm @ Holy Family Catholic Church
May 25, 2019 11:00am @ Cathedral of the Assumption