Archbishop Kurtz Blog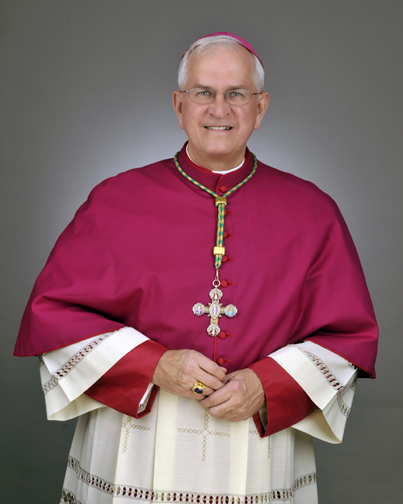 Archbishop Kurtz sends a video message to the faithful of the Archdiocese of Louisville as he serves as a delegate to the Synod on the Family.
On September 8, I traveled to St. Augustine, Florida to take part in the Diocese of St. Augustine's founding celebrations.  Here are some reflections on it that I shared with Bishop Felipe Estévez:  How very grateful I was to have the … Continue reading →
Conversations is a monthly, 30-minute television show in which I participate in an ongoing conversation about the Archdiocese of Louisville, my involvement with the larger Church (both nationally and globally), and issues of faith in general. In the third segment … Continue reading →
Like many, I am filled with joy and excitement for Pope Francis' upcoming visit to the United States. Popes don't visit as tourists. They travel to strengthen and support the Catholic faithful and to provide a powerful witness to all … Continue reading →
On Thursday, September 17, Catholic Charities of Louisville hosted its 3rd Annual Celebration of Spirit and Success. Below is the message I shared with those in attendance at this joyous event.
Conversations is a monthly, 30-minute television show in which I participate in an ongoing conversation about the Archdiocese of Louisville, my involvement with the larger Church (both nationally and globally), and issues of faith in general. In the second segment … Continue reading →
Conversations is a monthly, 30-minute television show in which I participate in an ongoing conversation about the Archdiocese of Louisville, my involvement with the larger Church (both nationally and globally), and issues of faith in general. In the first segment … Continue reading →
On Sunday, September 6, I appeared on CSPAN to talk about our Holy Father's upcoming visit.  Thanks to host, Susan Swain, CEO of CSPAN and reporters Michelle Boorstein, Religion Correspondent for the Washington Post and Stephen Dinan, National Political Correspondent … Continue reading →
Our local Serra Club just sent me information about an upcoming event to celebrate the canonization of Blessed Junipero Serra.  This is a live screening of the canonization Mass that I will concelebrate with our Holy Father, Pope Francis. See information … Continue reading →
It is exciting that Pope Francis is coming to the United States.  His plane will land in Washington, D.C. in less than three weeks. But in some way, he has already arrived!  Just this Monday, ABC TV conducted an exclusive … Continue reading →