I am pleased to lend a word of support to our Catholic girls' schools in the Archdiocese of Louisville as they join together in a creative way to support Catholic education.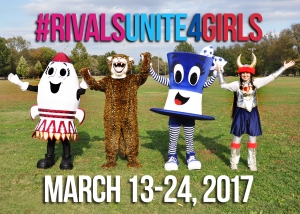 Assumption High School, Mercy Academy, Presentation Academy, and Sacred Heart Academy have launched the second annual #RivalsUnite4Girls to invite alumnae to donate to the annual fund of these schools. This fun and playful approach communicates a very serious purpose, as these schools do so much to support, educate, and form our young women.
The annual fund of our high schools is a vital part of their operation…and tuition and fees do not cover the total costs of operating these fine educational institutions.
So, please consider donating to your alma mater.  Any gift made before Friday, March 24 at midnight counts, and the school with the highest percentage of donors wins the bragging rights.  I look forward to announcing the winner next Tuesday, March 28, so stay tuned!