Today, Catholic Charities of Louisville organized a luncheon to promote Catholic Relief Services' Rice Bowl Program. At this gathering, approximately 150 students in grades 6-12 from 28 Catholic schools will hear about this wonderful program and share ways in which they will promote it at their schools.  For more information about this program, including the Rice Bowl mobile app, go here. 
Because I am in Rome this week for curial visits, I sent a greeting, through Deacon Lucio Caruso, to the students.  Here is what I said:
Dear Student Participants in the Rice Bowl Luncheon,
May God's blessings be with you in abundance as you gather representing Catholic schools from throughout the Archdiocese to learn more about and to support Operation Rice Bowl.
I welcome and thank all who have prepared for this special gathering, and I very much regret that I cannot be with you. On the day of your lunch, I am in Rome for various meetings related to my work as president of the United States Conference of Catholic Bishops.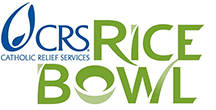 I envy your chance to hear from such fine speakers, especially Peter Kimeu, who will testify to the work of Catholic Relief Services in his own life from his native country of Kenya.  I also would have loved to fill you in on my trip earlier this month to the Philippines.  I was able to see firsthand the devastation wrought last November by Typhoon Haiyan, as well as the very hopeful progress that the people of the Philippines have made with the help of Catholic Relief Services and so many others.  Donating more than $10 million through special collections in December of 2012, the people of the Catholic Church throughout the United States were so generous in responding to the need in the Philippines. Perhaps you and your family were one of those donors.  
I am especially thrilled to support Operation Rice Bowl, and I have been a fan for 40 years!  First of all, I came from Pennsylvania – the Diocese of Allentown – and back in the 1970s a priest from Allentown, Msgr. Robert Coll, was working for Catholic Relief Services as Associate Director.  He developed Operation Rice Bowl as a very concrete way to understand the face of poverty and human need, find ways to pray together in Lent, and join in the generous support of efforts to help real people lift themselves up from a life of devastation to one filled with hope, opportunity and grace.  Second, I am delighted and proud that Catholic Relief Services is the international relief arm of the United States Conference of Catholic Bishops and in that sense, forms an integral part of the Catholic family of which you are a key member.
I also want to thank, in your name, all who organized this luncheon, especially Mark Bouchard of Catholic Charities and our host today, Holy Cross High School.
Thanks for listening and learning about this vital ministry of our Church.  Please take this opportunity to begin preparing for a Lent filled with prayer and the renewal of your personal life and action for others, especially those most in need. 
God love you
Most Reverend Joseph E. Kurtz, D.D.
Archbishop of Louisville