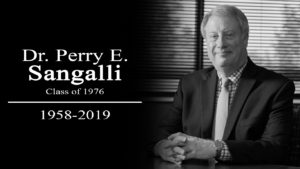 I grieve with the Sangalli family, the Saint Xavier High School community, the Xaverian Brothers,  Spalding University, Holy Trinity Parish, and all of the many individuals, families, and organizations that Dr. Perry Sangalli touched during his too-short life.
It is fitting that Perry goes to God as we begin the national observance of Teacher Appreciation Week. We will hear much in these days of remembrance about Perry's strong administrative leadership and all of the accomplishments he led in the mission, finances, and facilities of Saint Xavier.  But first and foremost, Perry was a consummate Catholic school teacher who cared deeply about the young men of Saint Xavier as well as the teachers and staff who served there during the almost 40 years he served in Catholic education.
I visited Perry during the first few days he was in the hospital and was moved by Perry's complete trust in Jesus Christ.  Recently I also observed his gentle and firm leadership at a school Mass during Holy Week when Perry was clearly feeling poorly but exhibited to the students the grace and dignity that accompanied all of his actions as a leader and a friend to so many.
I have seen many tributes from students who praise Perry's example as a man of faith committed to excellence in all things. As we grieve his loss, we will celebrate his legacy of service, teaching, leadership, family, and friendship. Since Perry loved music, we will raise our voices together in a joyful chorus of gratitude for his life.  And so fitting for the Easter season, we will pray for the repose of Perry's soul. May our loving Father grant eternal rest to this good and faithful servant.
Most Reverend Joseph E. Kurtz, D.D.
Archbishop of Louisville
May 6, 2019