The Most Reverend David R. Choby, Bishop of Nashville died last evening.  Bishop Choby was not only a brother priest but a dear friend for the last 18 years, especially during the almost 12 years during which he served as the 11th bishop of Nashville.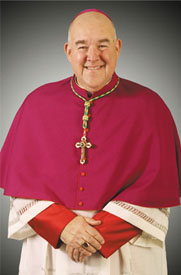 His engaging style, his keen intellect, especially in matters related to canon law, and most of all his warm personality will be greatly missed. Bishop Choby was a thoroughly gracious gentleman and churchman.
Our friendship deepened during the week-long December of 2004 ad limina visit to Rome while Saint John Paul II was pope, and Bishop Choby had been elected administrator of the Diocese of Nashville. He was later ordained as Bishop of Nashville in February of 2006.
Bishop Choby was not only active as the Bishop of Nashville but also in his engagement with the province of Louisville. He spearheaded a gathering of all seminarians of the province at a state park in Kentucky in August 2014, an event that will be repeated in August 2018.  His dedication and commitment to priestly vocations is also seen in his service as President of the Board of Trustees of the Pontifical College Josephinum in Columbus, Ohio.
Bishop Choby leaves a legacy of true pastoral care for all.  I will miss him as a fellow Bishop, a good friend, and a true disciple of Jesus Christ.
May he rest in peace.