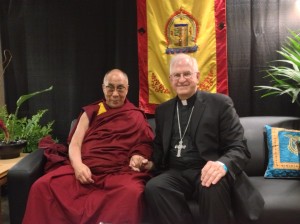 Usually when I walk to the Yum Center in Louisville, it is for a Cardinals basketball game. This morning was different. At 8:40 a.m., it would be my privilege to meet face to face with the Dalai Lama. I was not sure of what we would discuss, but I was honored by this privilege.
I brought two small gifts: one, a parchment with the famous "Prayer for Peace" in Spanish by Saint Francis of Assisi. You know well this prayer that begins with the words: "Lord, make me an instrument of your peace…." The other gift was a small, commemorative card of Pope Francis.
Blessed John Paul II met eight times with the Dalai Lama, and Pope Benedict met with him in 2006, shortly after becoming Pope. In October of 2011, I was privileged, along with Cardinal Dolan of New York, to be a delegate in Assisi for the 25th anniversary of the meeting of world religion leaders, and though the Dalai Lama was not at this gathering, I knew that he was part of previous ones. So you can imagine that I was very honored to have the opportunity to meet personally with the Dalai Lama today. I had heard that his English is a little halting, and of course, my Tibetan is non-existent, so I thought I would just trust in the Holy Spirit.
The meeting lasted a bit more than 10 minutes. I must say that it was all I thought it would be and more. I have included a photo that was taken and that I tweeted on the sidewalk of Third Street with this statement: "Privileged to meet w the Dalai Lama to discuss respect for every human person & share desire for lasting world peace pic.twitter.com/rBLClvzuhg"
So what was the 10-minute meeting like? I found a very warm human being, humble and gracious. His hand of friendship led me to a sofa where we spoke. It was a beautiful exchange. I am amazed at how much was said in that brief time. We spoke of mutual respect and of the great need to be true to our religious convictions as we respect those of others, and within that, to know that peace is possible! I heartily agree – and so would Pope John Paul II, Pope Benedict, and now Pope Francis.
There is, of course, a real danger of religious indifference or what has been called religious syncretism. This is the path in which deep beliefs are somehow seen as being unimportant, and we ignore whatever does not fit into what might be called the least common denominator. I did not find a hint of this in our meeting – nor in my reading of the book that he gave me in our parting.
In fact, we spoke of different perspectives concerning creation and Creator and, of course, my belief in Jesus as Savior. Within a true mutual respect for what is different, we found so much in common. He spoke of emptying himself so as to respect others and finding a path to non-violent peace in this world. I spoke of Jesus dying to self and His grace-filled invitation to His followers to do the same in a path to lasting peace. (In fact, at that point, a translator in the room took time to explain what I had just said, and the Dalai Lama nodded in great agreement.)
I gave him two gifts, which I mentioned earlier (the parchment scroll in Spanish of the "Prayer of St. Francis" as well as the commemorative card of Pope Francis). He carefully signed his book in the Tibetan language and then traced the words with his finger as he translated them into English: "To Archbishop Joseph Kurtz with respect and greeting from the Dalai Lama." Then he unwrapped a silk cloth and draped it over my neck, carefully weaving it around the chain holding my pectoral cross (the one given by Pope Benedict to the participants in last year's synod in Rome), and he raised the cross very respectfully to his forehead. It was a very touching moment. In turn, I bowed in respect and gratitude for our holy conversation.
Returning to the Cathedral rectory, I found this press statement from the Dalai Lama on the occasion of Pope Francis' election:  
May I offer you my greetings and sense of joy on your historic election as the Pope…. Although I am not very familiar with many Catholic saints, I do know about St. Francis, having visited Assisi and attended inter-religious gatherings there. His discipline, the simplicity of his way of life and his love for all creatures are qualities that I find deeply inspiring. I am moved to know that his is the name you have chosen for your papacy.
Recalling his cordial meetings with Pope Paul VI, John Paul II and Benedict XVI and other Christian brothers and sisters, His Holiness looked forward to meeting the new leader of the Roman Catholic Church:
I am very pleased to have met and enjoyed friendly conversations with your immediate predecessors and, for the last forty years or so, have participated in fruitful exchanges with my Christian brothers and sisters. I hope that I may have the honour of calling on you, too, sometime in the near future.
What a beautiful statement, which I am sure came right from his heart. Our meeting was only ten minutes … maybe fifteen … but I am so grateful to have shared with a holy man what is so basic in our world: a respect for every human being and a desire for lasting world peace. These are certainly noble sentiments and goals within the reach of each of us!