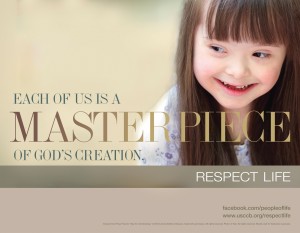 My message to diocesan pro-life directors given in July at the annual Diocesan Pro-Life Leadership Conference in Charleston, SC, may help in preparing for October's Respect Life Month.
Keynote at Pro-Life Leadership Conference
Charleston, South Carolina
July 28, 2014
It is a pleasure to be with you. Let me begin by saying how grateful I am to be in Charleston, South Carolina. I visited recently for the funeral of Bishop David B. Thompson who lived to be 90 years old and was Bishop Emeritus. I will visit his grave on this trip and perhaps some of you will have a chance to see it before or after Mass this evening. Bishop Thompson and I were both from Allentown, Pennsylvania, and we were very, very good friends. I have the greatest admiration for this wonderful diocese.
I also want to extend a special thanks to Tom Grenchik and to all of the staff of USCCB for your leadership and wonderful work. When Tom invited me to present this keynote, I asked him: "I know I was just elected president of the bishops' conference, of course, but why did you ask me to give the keynote talk today?" Tom said, "Well, to be honest with you, Archbishop, you have the reputation of being a very warm speaker." I said, "Tom, thank you. That was very good." I hung up the phone and I got out my dictionary, and I looked up the word warm. It said: "Warm – not so hot." So I called Tom back and said, "Tom, I want you to know that I have a dictionary at home, but I'll still give the talk." He said, "Archbishop, seriously, we all consider you actually to be a model preacher." I thought, well, that was awfully nice, so I hung up the phone and got out my dictionary, and it said, "model – small imitation of the real thing." I refrained from calling him again.
It is good to be with you and to present this keynote address. I would like to begin by affirming the importance of your apostolate, the ministry of respect for life. Our Holy Father, Pope Francis, has said very beautifully that the human person is the masterpiece of God's creation, and we are all privileged to be in this wonderful apostolate.
I would like to tell you another story. I come from Louisville, Kentucky, and we have a little horse race there every year. I go to the Kentucky Derby each year (as I say religiously), and I go in my collar. Two years ago, I encountered a gentleman on the elevator. He looked at my collar and said, "Father, are priests allowed to bet?" I answered by saying that I think we are allowed to bet, but we were not allowed to win. He quickly retorted, "You know, I believe I may have a vocation."
Though we shouldn't use the language of "vocation" or calling from God too loosely, his response got me thinking that each of us, in our role, has a vocation. It's a calling from God, and in some ways it's a sacred trust. It is not too far afield to say that if you and I don't act on behalf of life, maybe no one else will be acting. So I hope that this is an enjoyable presentation, but I speak with great seriousness when I speak about our call from God to announce and speak for the gift of human life.
I've chosen as the theme: "The Four Cs of What It Means to be Pro-Life." I've been reflecting on these for a number of years now. They are very simple. I will talk about courage, about compassion, about civility, and about calm.
First, I will speak of courage. You know we live, as Pope Francis reminds us, in a "throw away" culture. It is a very secular culture and in the midst of it, we really need to stand up for the gift of human life – the gift of life. Standing up is a conviction that is not only good for our church but also good for America. It is good for the fabric of our nation whether someone is Catholic or not and whether they are religious or not. The gift of life is at the very fabric of what it means to be a culture and a civilization of love. You and I are doing this because the culture of life and a civilization of love is a gift that everyone deserves to have.
I was ordained a priest in 1972, and it was in January of 1973 that I wrote my first letter to the editor. You can probably guess what it was about: Roe v. Wade had just been issued by the Supreme Court, and that letter was actually the first public action that I can remember taking, not only on behalf of life but on behalf of anything. When was the first public action that you took?
Think of the courage of Jesus. It is very complex as Jesus displays this quality in so many ways and in so many different situations. Jesus teaches in chapters 5, 6, and 7 of the Gospel according to St. Matthew ("The Sermon on the Mount") very strongly as he introduces each teaching with "…but I say to you." Jesus is not shy about courageously speaking about what is right and what is wrong. It was Jesus who cleansed the Temple by speaking and acting very publicly. It also was Jesus who remained silent as he faced Pilate, and so the courage and the public nature of the life of Jesus is complex. So it is with you and me as we seek to be people of courage – it is complex, isn't it? It can't always be the same action in every situation for each one of us, but I would like to suggest to you that the public action we take is primarily a public gesture that people understand.
Pope Francis has captured the world by storm in many ways. He has done so primarily because he's a master at gestures; of being able to do something very sincerely that captures the imagination of people. I'd like to propose two public gestures that I've been involved with in the hope that you might uncover in your own life the public gestures of courage that you might consider.
The first is my involvement with the Helpers of God's Precious Infants. I came to know Helpers in 1997. I became a pastor of a parish back in Bethlehem, Pennsylvania. It is a parish that was near an abortion clinic, and we began this public action with the advice of two lay people who came to me and said, "Father, would you be willing to have your parish be the center for the Helpers of God's Precious Infants?" I said, "Tell me more about it." I immediately became a believer. In fact, Msgr. Reily, the founder of Helpers, came to Bethlehem in early 1997. Soon, we were off and running.
The Helpers were already in Louisville when I arrived, but we decided to move the monthly Mass to the Cathedral. Twice a year, I join the Helpers and have that opportunity of being part of this public and prayerful pro-life gesture. For those who may not be familiar, the approach of the Helpers of God's Precious Infants is to begin with Mass and then to process, as we pray the Rosary publicly, to the abortion clinic. (We have Eucharistic Adoration at the church for those who cannot take part in the procession.) The process ends with Benediction.
In 2008 I had the privilege of actually representing the pro-life community in Munich, Germany because they were looking to begin a chapter of Helpers of God Precious Infants in Munich. I still have a cross that I brought back from that event. That small action (often a silent prayerful action) is a public declaration that life is worth standing up for. Every one of us needs to find the courage to have some public declaration.
Another gesture involves a booklet called, The Gift of Joy. (I brought some copies as a gift from me to you.) This book is about the gesture called the blessing of the child in the womb. Where did this come from? Well, in 2008 the Pro-Life Committee of the Bishops' Conference requested that the United States Bishops endorse a blessing of the child in the womb. This was approved unanimously and went to Rome. It ended up being approved by the Congregation for Divine Worship and the Sacraments, and it was on the feast of the Immaculate Conception (December 8, 2011) that it became part of the official Book of Blessings within the United States of America.
In 2012, I had the occasion to be a delegate at the Synod on the New Evangelization in Rome and chose as the topic of my intervention – all delegates received five minutes to give some intervention at the synod – the blessing of the child in the womb for a number of reasons. First, because we need some public affirmation and expression that a child is a gift, not a possession, and that a child is a gift from God who should be loved and valued. Second, we discovered that there are a number of young families, and even single parents, having children who are not turning to the church for Baptism, perhaps out of embarrassment, laziness, or fear that they are going to be asked to do things they do not want to do. So, the blessing of the child in the womb is a first step. It is a chance for the church to say that your child is important to us. Ideally, we will have the blessing of the child in the womb in every parish in the United States of America and beyond.
Please take this copy of the booklet, The Gift of Joy. Written by the Associate General Secretary of the USCCB, Msgr. Brian Bransfield, and me, the booklet explains the blessing. It doesn't actually give the text of the blessing (except the core part), but the blessing is accessible on the USCCB website, and it is an opportunity for you to be part of what I think is a very positive gesture. By the way, prior to the Synod on Evangelization, I had about six different listening sessions or focus groups within the Archdiocese of Louisville, and in each one I brought up the issue of the blessing of child in the womb. The response was one of tremendous openness and appreciation. So, I think you'll find as you work with people in your parishes or in the archdioceses or dioceses in which you serve that there is going to be a great openness to making this blessing part of the fabric of your parishes. These examples show how the gift of courage can be carried out in many, many ways.
Second, I would like to reflect on the gift of compassion, which is a commitment of the heart. There is a story told about a young boy in Mobile, Alabama. He was only six or seven years old, and he was walking on the pavement without any shoes. That's usually not an exceptional thing in Mobile, Alabama, except that during this particular time there was a cold spell. He walked by a store – one of these variety stores that serves everybody and everything. It was run by a woman, a very fine woman, who like clockwork opened the door of the store at 8:00 a.m. and closed it at 5:00 p.m. When she opened the store one morning, the little boy was walking by, and she saw that he had no shoes and that he was very cold so she invited him in. She said, "Son, come on in. I want to give you a pair of shoes." He said, "Ma'am, well thank you, but I don't have any money." "No, no," she said, "I'll give them to you."
So he came into the store, and she fitted him up with a pair of shoes, and he looked up at her and said, "Are you God's wife?" She laughed the same way that you just did, and she said, "No, son; I'm not God's wife, but I am a child of God." He looked back up at her and said, "I just knew you were related!"
Compassion is touching the heart. We can't be in the pro-life apostolate without our hearts being touched and softened. I had the privilege of having an older brother named Georgie who had Down Syndrome. My brother, Georgie and I grew up together. He was five years older than me. When our mother died in 1989, I had the privilege of becoming legal guardian for Georgie. Now, he was my older brother, and he reminded me – and anyone else who asked – about that every day. For 12 years – George died in January 2002 – we had the privilege of living together in two different rectories and one bishop's house. What a great, great gift my brother was when he first moved into the parish where I was a pastor. People would say when I was going on vacation, "Well, Father, we are going to miss you." But they always added, "We are really going to miss Georgie." There was that soft, family dimension – that sense of compassion that recognizes what really is important in life – that needs to be part of every effort in the pro-life apostolate.
I am in the process of reading a book by Brandon Vogt entitled Saints and Social Justice: A Guide to Changing the World. It is a beautifully written treatment of the various saints who have been part of the work of social justice. He tells one story that I have never heard about Mother Teresa of Calcutta.
It was early in her time in her new apostolate, which she called it a vocation within a vocation. She saw an elderly man, and she wanted to enter that man's house so that she could clean his house. He was very reluctant to let her come into his house. Finally she convinced him that it would be a good thing to put some order into his house. When she went in, she discovered a beautiful lamp and said, "Why don't you ever light your lamp?" He said, "Because there's nothing to see. There's no one here to see with me." She said, "I will be here. We will light your lamp." So the story is that every week one of her sisters would come and help clean his house, and in the process, they would, of course, light that lamp. A number of years went by, and Mother Teresa had not been there for a while, but one of the other sisters was there when this man said, "Tell my friend that the light that she lit in my life still continues to shine."
I also was moved by one little verse that talked about Pope Francis. It is entitled "It is Good that You Exist." Pope Francis said in 2013 that even in the midst of major problems, such as violence and drugs, the greatest travesty is the problem of people being marginalized. It is as if you and I say to certain people, "We don't want you to exist." The pro-life movement is saying this: It is good that you exist. It is good that you exist. That is the commitment of compassion.
Some people want to make a false choice. When I was in Knoxville, Tennessee, we began a pregnancy support center, and one of the first directors, thinking that she was saying the right thing, said to a group when I was there, "Now there are some people who want to protest against abortions, but this service is not for them. You're the volunteers who are doing work to reach out." I raised my hand, and I said, "I think you just disqualified me from volunteering." We don't want to promote the false choice as we reach out to be compassionate as if only the non-courageous are eligible to be compassionate. We need to be compassionate and courageous.
One of the things happening within the United States Conference of Catholic Bishops, and it is happening in many dioceses, is that we are striving not to live in silos where every person exists in his or her own little turf, and nobody talks to one another. It is a good thing that we are seeking to collaborate and cooperate with other groups, and we are doing that very well. I see Ed Harpring here from Louisville, and I think we're making some very good progress doing that. There is, however, a caution. We don't want to become so vanilla or bland that we lose our passion for what's important. We know that everybody is not going to be passionate about everything. We need to make sure that as we work with one another across various programs and across various departments within our dioceses, we do not lose the zeal and passion that we have for what is important. We need that passion.
Third, we need to be civil. I mean civil in the sense of being polite, but not civil in the sense of being distant. Being civil to someone means that we recognize that the person with whom we're talking (whether that person is a friend or someone who's espousing things that make him or her sound like an enemy) is a child of God. Compassion and civility means that we treat that person with great respect. We don't shout. We find ways to reach out in a manner that would be fitting of a follower of Jesus Christ.
Civility also means listening to those who oppose us for two very important reasons: First, because we might learn something from them that we're missing and second, and very importantly, we may learn why our message is not being heard well. The work of the new evangelization is not simply what is being proclaimed. It is also about what is being heard. So, we listen even to our enemies, because we want to know in what way is our message being heard. As we listen, civility, of course, offers us the opportunity to be able to treat each person with great respect and dignity.
Finally, I propose the gift of calm, which is synonymous with serenity. One of the biggest enemies I find in the pro-life movement is what I would call the "Blame Game." The "Blame Game" works like this. How come no one else is helping me? How come I have to do all the work? The "Blame Game" can be devastating. So the gift of calm or serenity is a gift that our Holy Father Pope Francis has talked about in Evangelii Gaudium. Do you remember the first sentence of Evangelii Gaudium? "The joy of the Gospel fills the hearts and lives of all who encounter Jesus." The gift of calm comes from the person who prays – who seeks to see others and other things with the eyes of Jesus.
I experience that calm in my Holy Hours in the morning, and sometimes my Holy Hours are actually a holy 15 minutes. In the midst of the calm of trying to let the Lord speak to me, I sometimes discover, especially with whatever problems are going on within our Archdiocese, what gift God really has given to me to serve others. But I also discover the gifts that other people with whom I am working bring. In 1988 I went to a parish as pastor for the first time. I began to take to my Holy Hour the pictorial directory of the parish. I must admit I did that partly because I thought that in the midst of my prayers, I would be able to learn some names of the parishioners that I was serving. Very quickly, I began the practice of praying for one page a day. In that process, I became amazed at how much I knew about those parishioners. I may have met them as they were coming in and out of Mass, or I may have visited somebody in the hospital. There are a variety of ways that we meet the web of people we serve, but praying for one page a day has given me the opportunity of calm to understand the presence of Jesus, not only in my own life, but in the lives of those with whom I serve and whom I serve.
In this process, we come to what ties all these Cs together – of compassion, courage, civility, and calm – and that is communion with one another in Jesus Christ. At the Holy Eucharist, you and I draw close to Jesus, and the closer we come to Jesus the closer we come to one another. So it is that you and I have a great privilege of being part of the apostolate that is pro-life.
I will leave you with two quotes from Sacred Scripture that I often reflect during my Holy Hour. The first is what I would call the saddest verse in Sacred Scripture. It's in the Book of Revelation, chapter two, verse four. Do you remember the verse? Revelation 2:4: "I hold this against you. You have less love than you used to." "I hold this against you," the author said. "You have less love than you used to." This conference is about returning to that original love and that original zeal that draws us to the apostolate. The final verse is the Second Letter of St. Paul to Timothy 1:6: "Stir into flame the gift of God that you have received." "Stir into flame the gift of God that you have received."
Thank you for being such great ministers of the pro-life apostolate. God bless you!