Below is my homily at the Mass at the shrine of Saint Anthony in the Vietnamese Diocese of Vinh on Monday (January 30) morning.  This Mass took place on the third day of the lunar new year, which is referred to as TET In Vietnam and which is the biggest and most popular festival of the year in this country. It is typically celebrated for several (often about seven) days.
I visited Vietnam on behalf of the United States Conference of Catholic Bishops (USCCB), which seeks to build solidarity with episcopal conferences around the world.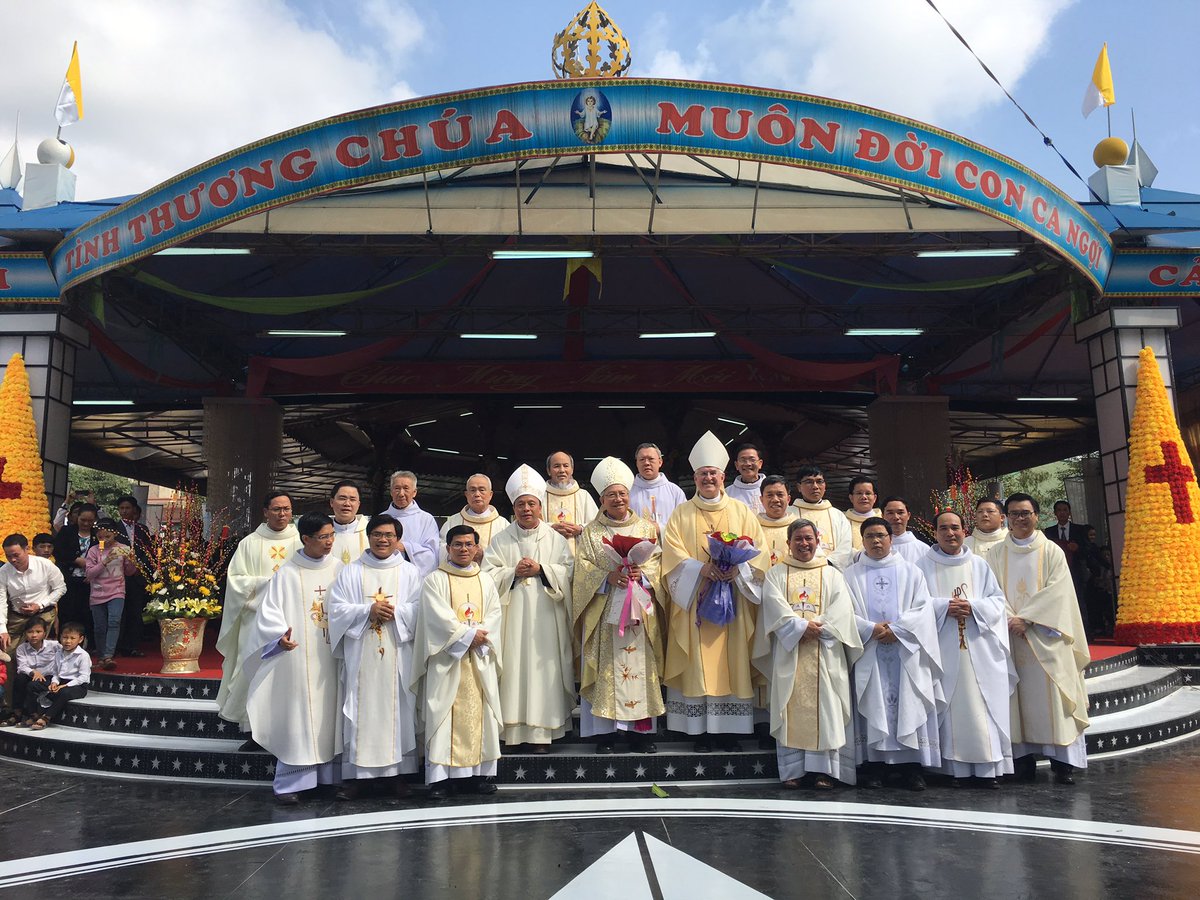 My warm greetings to the Vietnamese Catholic community of the Diocese of Vinh, representing today's 540,000 Catholics of a great diocese that includes three provinces of Vietnam: Nghe An, Ha Tinh, and Quang Binh.
Special thanks to Bishop Paul Hop for his warm welcome and blessings during this third day of TET.
I also wish to thank the Most Reverend Paul Thuyen, former Bishop of Vinh; Auxiliary Bishop Peter Vien, diocesan priests, religious sisters and bothers, seminarians; and thank you, all of the faithful. May God bless you all!
It is my joy to greet all of you who take part in this special Eucharistic celebration and who come and ask for blessings. For me as a Catholic, I often say, "God bless you," and I mean that I wish the best for you.
In your deep cultural celebration, this request for blessing is very ancient: a wish that the crops will be fruitful and plentiful for the coming year; the wish that all will live in peace and harmony; and the wish that all will grow in maturity, considering not only our individual good but truly seeking the  good of all – the common good.
When I ask that God be the source of blessing, I say more. It is not only a wish but the request for a gift. I humbly ask that God will be with you and me and will give what is needed for all our prayers: for fruitful harvest in the new year; for peace and harmony; for the good of each individual and each family; for respect to grow.
I come from the United States of America; from the Commonwealth of Kentucky (some say famous for Kentucky Fried Chicken!) and from the City of Louisville and the Archdiocese of Louisville.
I come with great joy and enthusiasm. I bring the prayers and wishes of so many families who have made a new home in the United States, but who fondly recall with love their home and their families and their loved ones in Vietnam. I bring greetings from them, and Father Anthony brings the same greetings.
I also come as former president of the USCCB and bring greetings and solidarity to the Catholic Bishops Conference of Vietnam. We seek to join with you in solidarity – in joy as you begin a new lunar year and in gratitude as you thank God for blessings.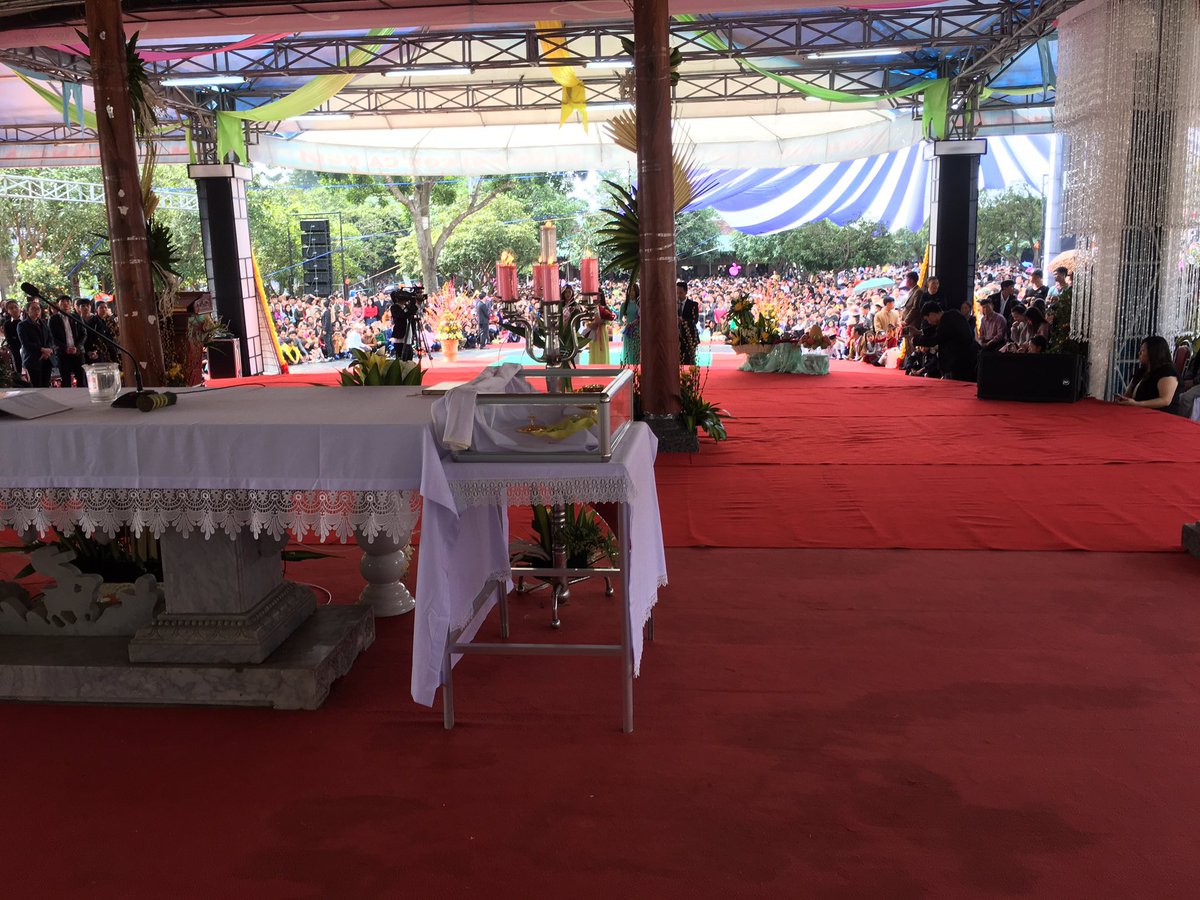 The readings of Sacred Scripture guide us in our celebration. First from the Book of Genesis, as we reflect on God our Creator from whom all creation has its source, we hear that God spoke to the first man and gave the double command to "cultivate and care for" the earth.
Today we ask God's blessings that we might do both. We seek to cultivate the earth, using all the gifts and talents we have been given in our daily work. This cultivation of the land helps all of us prosper and helps us care for one another, for each of our families and for those who have little and depend on our generosity. As we cultivate, we also care for the earth.
Pope Francis, in his encyclical Laudato Si', reminds us that we are to promote a human ecology: one in which we both care for God's creation, our natural resources, and care for the people who inhabit this good earth. With Adam and Eve, we commit ourselves to both cultivating and caring for the earth.
The second reading from Saint Paul's 2nd letter to the Corinthians call us a step farther: we must always give thanks to God for it is God who "…makes every grace abundant." And we will know that we are properly thanking God when we see in our hearts the clear sign of thanksgiving. This sign is a generous heart.
Saint Paul thanked the Corinthian Christians because their thankful hearts made them generous to one another. He says," We are enriched for your generosity." In this new year, may our hearts overflow with this generosity.  
The Gospel passage gives us the truly familiar words of the "Our Father" – the particular prayer that Jesus Himself taught His followers to say. You know the words. You have prayed them from your youth. Father of us all, Our Father, holy is Your name. We pray that Your kingdom will come and Your will done. Make us grateful for our daily bread.
We are told that in the desert the chosen people were fed by manna each day. However, they were able to gather only enough for each day. They could not be greedy, but the gathering taught them to share with each other and to ask each day for daily bread. We want that gift.  
Finally the Lord's Prayer reminds us to forgive each other as we seek for God to forgive us. This New Year's celebration would not be complete if we carried in our hearts resentment and hurt. No, New Year's Day is a time to set aside these hurts – to seek and to give forgiveness, to begin this year with a fresh and pure heart, desiring only to serve unselfishly.
So many of you good people of Vietnam have had suffering and hardships in your life. You have deep sentiments of faith in your heart too. And you have the example of the holy martyrs who held fast to their faith despite hardships.
We in the United States of America admire your faith and your dedication to the truth and to love. As we honor Saint Andrew Dung-Lac and the 117 holy martyrs, we thank you for your devotion to your faith. Religious freedom is a gift that must be exercised and, when it is expressed well, it brings forth a people to seek to sacrifice for one another and who pass on the faith.
There is a great dignity to coming together on New Year's Day, this the third day of the New Year. We give thanks to God for all His blessings; we honor our ancestors who go before us; we thank God for the work of our hands that we might both prosper and care for each other and our land. And as Saint Paul reminds us, may our thankful hearts overflow into a generous spirit.
God love you; God bless your beloved Diocese of Vinh.