I just finished reading the book, Something Other Than God: How I Passionately Sought Happiness and Accidentally Found It by Jennifer Fulwiler.  Her title is taken from a quote from C.S. Lewis: "All that we call human history … (is) the long, terrible story of man trying to find something other than God which will make him happy."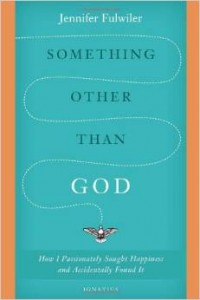 In a light-hearted and carefree, often humorous, style that captivates and makes you want to read just one more chapter, Jennifer tells her story of a "confirmed atheist" – from grade school on! – to her path of seeking a career, meeting the love of her life, beginning a family, and, in the process, becoming a strong woman of faith.  The story reads like a modern Confessions of St. Augustine, reminiscent of his famous quote on the book's first page:  "You have made us for yourself, O Lord, and our heart is restless until it rests in you." 
More than anything else, Jennifer's restless heart continues to lead her from blog to google search to chat rooms – to find some deeper meaning in life.  Each chapter led me deeper into her inner thinking and feeling – her joys and frustrations – and most of all, what gradually appeared as the steady hand of God leading her deeper into a life of faith that overflows into happiness.  Not to be easily convinced, Jennifer appears the ever ready "devil's advocate" at each corner she turns on this path of faith.  Some of her best chapters are the one on fossil hunting with her dad as an experience that made her yearn for more, her secular "make your own vows" wedding to Joe that was over before those in attendance had a chance to catch their breath, and her beautiful discovery of what it means to be a mother and experience the gift of new life.
As the book unfolds, she and her husband not only discover the Catholic Church but do so in a way that makes me appreciate my faith and the community of believers that Jesus gathers as His mystical body. In the end, she and her husband make some life changing decisions – based upon what they now consider to be most important priorities in life.  The vivid and genuine way that she describes the anguish and later joy of that path will, I suspect, inspire other thirty-somethings today who feel those same yearning for more in their lives.   
As a Church, we have been called to great and timely actions of evangelization.  This story reminded me that the working of grace most often begins with that inner yearning that moves hearts to look for more in life.  It happened to St. Augustine 1,700 years ago, and it is happening today.  Just ask Jennifer Fulwiler.  Learn more about Jennifer at her blog here.