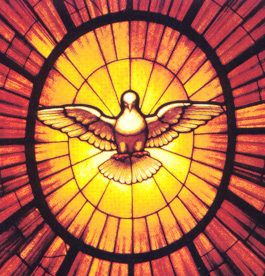 As we celebrate the gift of the Holy Spirit on the feast of Pentecost, I wanted to share a lovely note that I received from a young woman that I confirmed recently at Saint Aloysius Church in Pewee Valley.  I told Peyton Ash that her thoughtful expression of gratitude is a great sign of the Spirit alive in her life. Here is her note:
Dear Most Reverend Archbishop Joseph E. Kurtz,
Thank you so much for confirming me.  It was such a beautiful Mass and a touching sermon. Receiving the Holy Spirit was one of the most amazing things ever. The chrism oil was so cool to see and be placed on my forehead.
I'm sure you're very tired after all the Confirmations you've done this year, and I can't thank you enough for going out to Pewee Valley for our Mass. I know that I'm not the only one who's super thankful. A lot of my peers were so happy to be confirmed, and we all agreed it was one of the best days ever.  Thank you again.
                                                                                                               Sincerely, 
                                                                                                               Peyton Ash
                                                                                                               Saint Aloysius