This week, the Catholic Education Daily, an online publication of the Cardinal Newman Society, published an article about Catholic schools based upon an interview with me.  In the interview, I was asked about the importance of Catholic education, especially in light of the new evangelization, and the importance of the relationship between teachers and students. Here is the article: 
The very purpose of Catholic schools is to witness to Christ, said Archbishop Joseph Kurtz of Louisville, Ky., president of the U.S. Conference of Catholic Bishops, this week in an exclusive statement to The Cardinal Newman Society.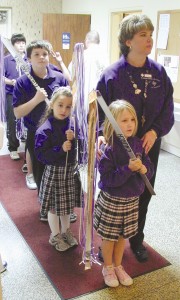 "Catholic schools exist to proclaim the good news of Jesus Christ to all the nations," said Archbishop Kurtz. "Through Catholic school education, students are daily invited to know Jesus personally, to love Him intimately, and to serve Him wholeheartedly. As Pope Francis reminds us in Evangelii  Gaudium, "the joy of the Gospel fills the hearts and lives of all who encounter Jesus.'"
The question of evangelization—and to what extent Catholic school teachers are expected to uphold the faith both inside and outside the classroom—has been controversial in San Francisco, where dissenting organizations like Call to Action have been provoking opposition to Archbishop Salvatore Cordileone's changes to a faculty handbook. But other dioceses nationwide also have been working to improve Catholic schools by focusing greater attention on Catholic identity.
Archbishop Kurtz highlighted the important role of faithful Catholic teachers in his own life:
I was fortunate enough to have benefitted from great teachers in the Catholic schools I attended from grades 1 to 12 and then, of course, in the seminary. I remember with special regard Sr. Mary Denis Woods, GNSH, who served as both the principal and 7th grade teacher at St. Canicus School. It was in the 6th grade when the idea of serving the Church first came to me, and she was a great support and champion as I began this quest to find God's purpose in my life.
Students also need the help of educators to prepare them to serve God and society.
"Each of us, through baptism, has a vocation," said Archbishop Kurtz. "In order to respond to this vocational call, we need God's grace as well as the help of others in our life who help us recognize how our gifts can be put to God's service."
He continued:
I believe that our Catholic schools are among our most promising institutions to serve as that "village fountain"—St. John XXIII's image evoked in the final message of the 2012 Synod of Bishops on the New Evangelization—in which faith, family, and learning come together to provide children and youth with a solid preparation for life, preparing them to be good citizens of both heaven and earth.
And even non-Catholics agree with this, said Archbishop Kurtz.
"Many others in the broader community assert the benefits of Catholic schools," he said. "Employers experience good character, discipline, unselfishness, and well-developed skills in Catholic school graduates, and our schools develop future good citizens imbued with a commitment to the common good."
Such benefits deserve to be celebrated, even in highly secular communities by people who are themselves uninterested in learning the Catholic faith.
"For decades, Catholic schools have made a difference, both in our Church and in the quality of life in our nation," Archbishop Kurtz said.
Article by Kimberly Scharfenberger. Originally published for Catholic Education Daily, an online publication of The Cardinal Newman Society. Used with permission.  The article also can be found here.