I presented the following keynote address to the annual meeting of the Catholic Press Association on Wednesday, June 18 in Charlotte, North Carolina: 
Introduction:  Thanks for the Feedback
A book published earlier this year by Douglas Stone and Sheila Heen entitled, Thanks for the Feedback: The Science and Art of Receiving Feedback Well, begins with this advice: "Before you tell me how to do it better, before you lay out your big plans for changing, fixing, and improving me…– know this: I've heard it before. I've been graded, rated, and ranked. Coached, screened, and scored. I've been picked first, picked last, and not picked at all. And that was just kindergarten. We swim in an ocean of feedback."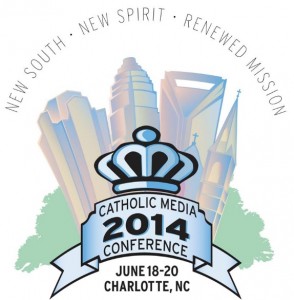 We all need feedback in our lives, and the Church is no different, so I come both to thank you for the feedback you give and to offer some initial suggestions as you embrace the new evangelization.  I have four assumptions about feedback in the context of Church communications: First, I begin with the principle that the mission of all Church communications is evangelization, and second, that the core of the new evangelization is not so much about what is proclaimed as it is about what is heard.   Third, any good communicator knows that good communication begins first with good listening, including helpful feedback.  Fourth, with all the challenges and opportunities on the horizon of the new digital frontier (which we are all only beginning to explore), we need feedback but, as the book title suggests, receiving feedback well is an art and a science.
You come to this convention with a deep history. For over 100 years you have been reporters, commentators, and importantly observers of how the proclamation of Jesus Christ is going, especially in and through the Catholic Church, and you have given much feedback. 
Actually you, the Catholic media, have been a primary source of feedback for the Church for many decades.  So, I begin by thanking you.  I realize that you are at this convention so that you can report effectively and observe creatively, telling the truth with clarity and transparency.  Thank you for this mission to give good feedback to our Church and to the world around us.
Now, in the midst of the changing environment of social communication that I am calling the digital frontier – an environment that has been compared in its revolutionary magnitude to the invention of the alphabet and the launching of the printing press – you are being called by the new evangelization not to turn inward but to go out.  Pope Francis has given us the call, the reasoning, and the attractive example of authentic and joyful witnessing to the good news of Jesus Christ in and through His Church.
So what does that mean for you?  Let me tell you about an encounter I had at the Kentucky Derby three years ago. I go to the Derby wearing my Roman collar and, getting on the elevator, I joined another man already there.  He looked at me and looked at the collar and asked: "Father, are priests allowed to bet?"  Lightheartedly I answered, "I believe we are allowed to bet but not allowed to win!" To which he instantly replied, "You know, I believe I may have a vocation!"
The new evangelization shouts, blessed leaders of the Catholic media, that you have a vocation.  Many of you already know that, but now it is in bold relief.  I would like to suggest that the new evangelization calls you in part to stretch and re-configure your traditional roles as Catholic media.  Let's explore the specific challenges for you. 
In this talk, I will share some feedback by reflecting with you on four calls of your vocation, somewhat tailored to you. I will speak with you about:
The call to understand and be true to the sacred trust placed in you by the People of God;
 The call to resist seeking a purely neutral stance and instead seek a loving one as belonging to Christ and His Church – that is, being in communio;
 The call to evangelize the digital frontier in a way that moves from diatribe to dialogue;
The call, to press and bishops alike, to be friends of Jesus and of each other.
1. A Sacred Trust
First, there is the call to understand and be true to the sacred trust placed in you.  People of God pay attention to you.  They are listening, and you have the sacred trust as Catholic journalist.  They trust you to promote Christ and His Church and to advance Catholic teaching accurately.   I was impressed when I studied the documents of your code of ethics.  They express high ideals to seek the truth and to understand the power of your word.  You aid the Church in seeking transparency grounded in truth and, in so doing, build credibility for the Church in the world.  Thank you.
I must say that your influence was confirmed when we recently compared a readership survey for The Record, Louisville's Catholic newspaper, to a similar study 20 years ago.  No surprise, our survey, like many of yours, revealed less time given to the newspaper (15 minutes instead of the 30 minute average two decades ago).  Surprising to us, however, was the great news that on all other measures there was little erosion.  Even young adults, who typically don't get the paper, all seem to have a grandmother who has a coffee table that has our Catholic newspaper setting right in the middle of it! That survey revealed that many pick it up, and a good number even like it!  So that sacred trust that the faithful put in you, so evident in your history and in your code of ethics, is still alive.  Thank you for being true to that trust by telling the truth with love. 
2. Resisting pure neutrality in favor of belonging to Christ – Being in communio
Secondly, I suggest that your call means resisting what has been seen as the traditional journalistic stance of being neutral in favor of belonging to Christ – that is, being in communio.  St. Paul said it well to the Corinthians in 1 Corinthian 3:23. Avoiding pure neutrality or divisive partisanship, he declared: "You are Christ's."
This theme is addressed in this month's message for the World Day of Communication from Pope Francis. In it he gives double advice: as the world gets smaller and smaller, don't let your heart shrink and, as the digital frontier picks up speed and gets more hectic, bring a sense of serenity and calm. 
Being in communio with Christ and His Church is about a loving gaze: not letting your hearts or that of your readers shrink. Pope Francis has spoken eloquently about the "globalization of indifference."  Quoting from Pope Emeritus Benedict this January 1 for the World Day of Prayer for Peace, he said that globalization has made us neighbors but not necessarily brothers and sisters.   In other words, while our world is shrinking, sadly too often our hearts are also! 
Pope Francis calls for "communication at the service of an authentic culture of encounter".  We are told that our Catholic faithful, especially young adults, are very literate but not about the Catholic faith; are often distant from the Church; tend to be  confused about their values and direction in life; but in some cases, they are open to coming closer to Christ and His Church and even searching for more of  the truth.  Witness the response to Pope Francis who simply shows the love and attention of a caring pontiff the way Jesus would.
I suggest your vocation in the new evangelization is to avoid a sterile neutrality and report the news of Jesus Christ to the world as one in love with him.  At one time, it may have been a goal to be neutral in the sense of impartial.  Researchers have long since recognized, however, that the hand and the eye of the researcher affect the study of the subject being observed, and so whether they seek to or not, reporters bring an angle – a stance to what they report.  Why not bring a heart in love with Christ and with His Church as the angle – the stance?
The trust of the faithful is precious; so when you report the news and provide lively commentaries with accuracy and transparency but always with love for the ways of Christ and the teachings of the Church, you fulfill that trust. My seminary training made me aware of one of the saddest of sins — called in Latin, "delectatio morosa," which is translated "delighting in the misfortunes of another."   Thank you for reporting with accuracy and with great transparency even bad news and scandals within the Church, but without any hint of morose delight.  
I must add that we cannot afford you to either stray from or sugarcoat the truth but even bad news needs to be reported with love – as one in communion. When I am required to tell some hard truth to someone within the Archdiocese, I try to picture how I would tell my brother, whom I loved so much, what he needed to hear for his own good. Thanks for writing lovingly even when bad news is the topic. This stance of accuracy and transparency done with love is so needed today.     
3. Moving the digital frontier from diatribe to dialogue
Thirdly, and for me the most challenging of all in calling forth your creative juices and energy, I believe that the Catholic press will be called over the next decade to influence the new digital frontier by carving out a place for dialogue. This may well be your greatest challenge and deepest contribution to the new evangelization. Let's call this a movement from diatribe to dialogue.
Merriam-Webster first gives the archaic usage for the word, "diatribe" – calling it "prolonged discourse" – coming from the Greek tribein meaning to rub and dia, meaning through.  Diatribe means to rub through or, in my words, to wear out … to weary.  The second usage says it clearly: a diatribe is "a bitter and abusive speech or piece of writing."  Sadly digital discourse, in part I suspect because it fosters anonymity and a penchant for the impulsive, is full of diatribe. 
I will admit that I have entered the digital frontier.  With 9,000 followers, I regularly tweet, and the tweets are linked to another 4,000 on Facebook.  I have a blog that gets multiplied through these conduits.  For me, it is part of my effort to communicate effectively and closely with people; this effort at digital communication is a start and an energizing one. But, and this is important,  I have not ventured much into using new media to interact in real time.  Not that I do not want to. I welcome dialogue.  But too often these purported opportunities for interactive dialogue become the scene of bitter, ugly comments that only tear down the faith rather than build it up.  This kind of communication does not further the new evangelization. 
In contrast, I have had great outcomes with listening sessions or focus groups of all sorts over the past five years.  We have used these groups in Louisville for everything from preparation for the Synods (the one in 2012 and the one for this October), our annual reports on accountability, our initiatives to promote vocations, and our development efforts. In short, the small group focus sessions have been enriching, and I would say have been the source of genuine and productive dialogue.  This year, I began participating in a reading group circle of theologians and bishop and after three sessions, can report the same positive efforts.  However, I have not seen this approach to dialogue progress in the digital frontier, and we need it desperately. 
Moving from diatribe to dialogue will require creativity but also a sense of calm and serenity.  Earlier I summed up the World Day of Communication message as giving two pieces of advice.  First, don't let your heart shrink and second, as the digital frontier picks up speed and gets more hectic, bring a sense of serenity and calm.
The new evangelization is about a calm and serene manner that is not pushy or preachy but creative.  We must avoid the stance of five year old Johnny, whom his mother discovered in the bathroom with their new kitten. Though the door was closed, Mom could hear the little kitten screaming:
 "What in the world are you doing to our kitten, Johnny?"
 "I'm baptizing him, Mom."
 "Johnny, don't you know that kittens just hate water!"
 "Well, he should have thought of that when he joined my church!"
We are attracted not to the pushy and brash, sorry Johnny, but to the imaginative and creative.  I had the privilege to serve as a delegate to the 2012 Synod on the New Evangelization in Rome, and I love the "Message from the Synod Delegates to the World" document that emerged from that synod.  This message used the word "serene" twice: once as serene confidence and the other as serene courage.  Over four centuries ago, your patron St. Francis de Sales also gave timely advice on this quality:  "Never be in a hurry; do everything quietly and in a calm spirit.  Do not lose your inner peace for anything whatsoever, even if your whole world seems upset." This is so crucial and, indeed, urgent today because I have found myself increasingly surrounded by diatribe as I enter this frontier.
Cardinal Dolan of New York addressed this well in a talk on communication that he gave in Rome in April.  Quoting from Rabbi Norman Lamm, he explains the meaning of the Hebrew word, anivut.  The Rabbi explains that the word means, "a soft answer to a harsh challenge; silence in the face of abuse, graciousness when receiving honor; dignity in response to humiliation; forbearance and quiet calm when confronted with calumny and carping criticism."  Sounds to me like Jesus. You and I need to cultivate that humility and call others to join us there.  Pope Francis has been eloquent in his call and leadership in this, and as I thought about these qualities, I remembered one of my favorite CS Lewis quotes: "Humility is not thinking less of yourself but rather thinking of yourself less."
This serene calm is so necessary as we seek to move away from diatribe and as we strive to bridge the growing interpersonal space between those who interact in the spheres of new media.  The interpersonal distance is so ironic. We are within reach of each other like never before but more and more alone. Recently I viewed a video that received the Kerygma Award.  It was called Dis-connect, and in three minutes or so, the viewer eavesdrops on a conversation in a bar between a man and a woman who are discussing their relationship and the distance between them.  As the woman speaks, the man half listens as he texts someone else.  The woman does the same when he begins to lament the gap growing between them — humorous if not so darn true.   The speed we think we need to maintain is getting in the way of authentic encounters.  But the gift of serenity would have us think twice about multi-tasking.  The research is showing that it isn't very effective anyway.  Thank God for the "Don't text and drive" campaign.  I suspect it will lead the way to serenity and sanity!
Moving from diatribe to dialogue and spanning the growing impersonal distance among users will take the best minds and hearts.  It will take creativity and surely serene confidence and serene courage and calm.  But it needs to be done, and it needs to be done with a true love of Jesus and His people in and through the Church.  I believe you will be the leaders.   Together we must seek a path for interaction and dialogue.  I believe that is what Pope Francis calls us to do in his "culture of encounter."
4.  The call, to press and bishops alike, to be friends of Jesus and of each other
Fourth, I address the call, to press and bishops alike, to be friends of Jesus and of each other.  In his first Mass celebrated in Rio with the young pilgrims for World Youth Day last year, Pope Francis preached:
I say to every one of you today: "Put on Christ!" in your life, and you will find a friend in whom you can always trust; "put on Christ" and you will see the wings of hope spreading and letting you journey with joy toward the future; "put on Christ" and your life will be full of his love; it will be a fruitful life. Because we all want to have a fruitful life, one that is life-giving for others.   
We, Catholic press and bishops especially, need to find ways to be friends of Jesus and of each other.  This convention, of course, is one way. Another was the USCCB Communication Department-sponsored seminar for bloggers and bishops two years ago.  The elements of such friendship we already know.  It means prayer and being inspired by Jesus in our hearts.  It means the lifelong study and never having enough knowledge and wisdom founded on God's Revelation of sacred scripture and tradition. It means coming together in non-crisis times to come to know and love each other in Christ Jesus.  It means "putting on Christ!"
Two years ago in Louisville we began an editorial board for our archdiocesan paper, The Record.  There are about a dozen people on the board, including priests, lay leaders, professionals from the field of communications, and theologians.  I don't go to all the meetings, but every once in a while I attend.  Last month we met and actually discussed what I would say today.  It was a focus group that provided very helpful feedback.   I'd like to share just a bit of this feedback because my exploration of it led me find an example of the Church engaging well with the digital frontier. 
In answer to my question, what would you have liked to hear more about in this presentation if there was more time, a suggestion was made that it would be good to explore what dialogue means in the Church.  I thought this was a great suggestion, but it would take another keynote.  However in looking to see how I might incorporate the notion of dialogue, I started with a Google search for a definition (to parallel what I did with the concept of diatribe) but didn't find much to help, as the focus was on dialogue as in a play. Then, I noticed a neat Google ad from the Xaverian Missions inviting seekers to "Join us in the global mission of the Catholic Church."  What a great example of the Church creatively entering the digital arena!
We know that these feedback sessions are more than work sessions.  They are opportunities for us, Catholic press and bishops, to step back and "put on Christ" in true friendship and respect.  Perhaps we could consider a session together – bishops and media – to brainstorm ideas about how the Catholic communicators can begin to transform that digital frontier I just spoke about.
Let me also add that, as I prepared this presentation, I prayed for you. Using the newsletter as a guide, I brought your intentions to my holy hour. I also prayed that we, bishops and press, might continue to cultivate friendship and mutual respect.  I have found that having non-crisis time to build relationships is crucial to friendship and respect.  This convention is one of those times.
Conclusion: 
Let us "put on Christ!"  We are not neutral on Christ and on the Church; we are Catholics who look for the truth and embrace it.  We are in communion with Christ and the Church, and we call others to join us. I began this talk by addressing the art and science of receiving feedback well.  You who are the ambassadors of the good news of Jesus Christ are also those who reflect well how that good news is being heard.  As you do so, thank you for heading the advice of your saintly intercessor Francis de Sales adds:  "Have Jesus always for your patron, His Cross for a mast on which you must spread your resolutions as a sail. Your anchor shall be a profound confidence in Him, and you shall sail prosperously."
God bless you, the Catholic Press Association.