Greetings!
As we read in Jeremiah 3:15, "Then I will give you shepherds after My own heart, who will feed you on knowledge and understanding."
The priesthood is following Christ's example to serve his people. The priesthood serves in particular by bringing others to Christ through the sacraments. They can offer our prayers to God by the Holy Sacrifice of the Mass and lead us to communion with God through the Eucharist. "The Son of Man did not come to be served, but to serve and to give his life as a ransom for many." (Mt 20:28)
The Call! This is always the great question. Do you feel called to give more or to be more? Does your relationship with God sustain you, enliven you and invigorate you in such a way that you want to share the Good News with others? Does the idea of being a priest or religious keep coming back time and time again? Do you have the feeling that you are on the brink of a major life decision? Do you feel a recurring tug in your heart to serve others more?
For discernment of a vocation . . . start with prayer. The call to priesthood and religious life is always from God. Developing a deliberately prayerful life, meaning one that includes daily prayer, Mass and regular confession, is essential to hearing the call to follow Jesus Christ. Talk with your pastor or school chaplain. These people will offer the first glimpse into priesthood and religious life and can answer some initial questions. Make an appointment with the Vocation Office to meet and discuss the discernment and application process. Attend one of the many events sponsored by our office which will give you time to inquire about seminary life and issues of discernment.
Those of us in the Vocation Office are committed to helping people in the local community of faith to discuss and respond to the calling of the Holy Spirit as it unfolds in their lives. We hope that our website will be helpful. Pleaes contact us in the event we can be of service to you in any way.
Peace,
Fr. Anthony Chandler
Vocation Director, Archdiocese of Louisville
"God calls you to make definitive choices, and He has a plan for each of you: to discover that plan and to respond to your vocation is to move toward personal fulfillment. I ask you, instead, to be revolutionaries, to swim against the tide; yes, I am asking you to rebel against this culture that sees everything as temporary and that ultimately believes that you are incapable of responsibility, that you are incapable of true love. Do not be afraid to go and to bring Christ into every area of life, to the fringes of society, even to those who seem farthest away, most indifferent. The Church needs you, your enthusiasm, your creativity and the joy that is so characteristic of you. 'Do not be afraid!' When we go to proclaim Christ, it is he himself who goes before us and guides us. When he sent his disciples on mission, he promised: 'I am with you always' (Mt 28:20). And this is also true for us! Jesus does not leave us alone, he never leaves you alone! He always accompanies you."
-Pope Francis,
World Youth Day 2013, Rio de Janeiro
Find us on social media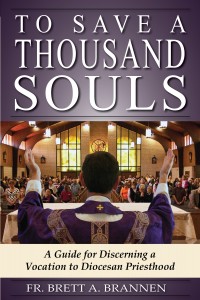 Click on here to receive a free copy of the book, To Save a Thousand Souls: A Guide for Discerning a Vocation to the Diocesan Priesthoodby: Fr. Brett A. Brannen
"An unparalleled resource that covers everything men need to know when praying about their vocation. It will be required reading for many men."
– Msgr. Rob Panke, President of the National Conference of Diocesan Vocation Directors.
Contact Us