Purpose
To provide a modestly priced, relaxing spiritual and private space for meetings, retreats, conferences and days of prayers.
Welcome
The Flaget Center is owned by the Archdiocese of Louisville and is the only retreat center in the area that can accommodate multiple groups of up to 300 people at a time. Located in a residential area and only fifteen minutes from Louisville International Airport, the Center is easily accessible for those traveling from all points in the U.S. The facility was originally built in 1957 and served as Angela Merici High School, an all-girls Catholic High-School until it closed in 1984. After extensive renovations in the mid 80s, it was reopened to accommodate retreat groups, educational programs, and needs of other non-profit organizations. The Flaget Center offers guests comfortable meeting rooms and a place to plan, pray and build community.
Over the past twenty years, thousands of people have passed through these hallways in search of a renewed presence and a spiritual journey with God. It is easy to experience peace and tranquility while visiting here, however the best part is the sharing of experiences and the bonding that takes place.
Many of our guests have returned here year after year, and that return pilgrimage attests to their satisfaction with what they experience at the Flaget Center. Guests specifically express their gratitude for the peace, hospitality and cleanliness of the facility. The Archdiocese of Louisville is committed to continuing these services long into the future. Bring new life to your next meeting in a quiet, spiritual setting.
Staff
Kimberly Robbins, Facility Manager
Danny Roarx, Maintenance
Teresa Esparza, Housekeeping
Ronald Herberger, Custodian
David Willis, Custodian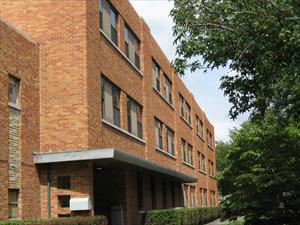 Office Information
Phone: (502) 448-8581
Fax: (502) 448-5518
Email
Address
1935 Lewiston Drive
Louisville, KY 40216