Purpose
To spread the culture of vocations to all of the Parishes of the Archdiocese.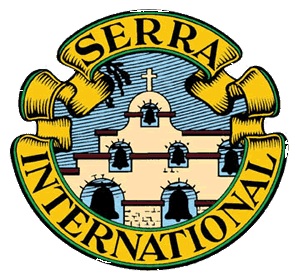 VP Secretary
& District Governor

Ken Peet
VP Membership
Neil Manias
VP Treasurer
Jerry Gonsoski
VP Programs
Chuck Lynch
Chaplain
Rev. Joseph Voor
Board Members
John Tichenor
Theresa Fielder
Ralph Williams
Norm Beat
Jerry Zimmerer
Debbie Farmer
Upcoming Events
Monday, Aug 6 Mtg – Regular luncheon at Golden Corral, Hikes Point, 11:45 am. – Fr. David Cockson will speak on "The Power of the Anointing of the Sick."
Monday, Aug 20 Mtg – Regular luncheon at Golden Corral, Hikes Point, 11:45 am. – Sr. Larraine Lauter, OSU will speak about the Water With Blessings organization.
Monday, August 27 – 6:30 pm at St. James Church in Elizabethtown – Holy Hour for Vocations, including Mass, Confessions, Eucharistic Adoration, silent prayer time, Divine Mercy Chaplet, and 9 pm Night Prayers from the Liturgy of the Hours.
Tuesday, August 28 – 11:45 am – Serra Club Board of Directors meets at St. Margaret Mary, Main Building, Room C.
Monday, September 3 – NO MEETING – LABOR DAY
Monday, September 17 – Regular luncheon at Golden Corral, Hikes Point, 11:45 am. – Fr. Jim Mudd will speak on "How Do You Deal With Divorced Children?"
Tuesday, September 25 – 11:45 am – Serra Club Board of Directors meets at St. Margaret Mary Spirituality Center.
Monday, October 1 – Regular luncheon at Golden Corral, Hikes Point, 11:45 am. – Fr. Voor will speak on the "Rejoice and Be Glad" exhortation by Pope Francis.
History
The year was 1934; the place was Seattle, Washington, and four Catholic friends had an idea. They decided to meet regularly over a meal to discuss how their Christian values could be lived out in their professional lives. Soon more friends were joining them, and within several months they had decided on an additional focus: the encouraging of vocations to the priesthood and religious life. They chose Padre Junipero Serra, the noted Spanish missionary, as patron.
This small group has grown into Serra International. Serrans today are still dedicated to spiritual growth, continuing Catholic adult education, warm fellowship, and the encouragement of Church vocations.
Serra International chartered its first Serra club in 1935 in Seattle, Washington. Then, as now, the two great needs for the church were for informed Catholic lay leaders who understand and live their own Christian vocations to service, and for dedicated priests and religious.
In 1951, Serra International became aggregated to the Sacred Council for Catholic Education and the Pontifical Work for Priestly Vocations.
In 1986, Serra International voted to welcome women as well as men to membership in the organization. Today, there are more than 800 Serra clubs in 37 countries with a total membership of more than 19,000 men, women and permanent deacons. Each Serra club is a member of both a national council and Serra International. Serra International, which has an office located in Chicago, links Serra clubs around the world.
The US Council of Serra
On June 1, 1994, Serra International approved and established the USA/Canada Council, as one of eight National Councils.
On June 1, 2000, the Serra International approved and established the Canadian Council of Serra International and the USA Council of Serra International. The United States is divided into 14 regions that correspond to the regions established by the United States Conference of Catholic Bishops (USCCB) and adopted by the National Conference of Diocesan Vocation Directors (NCDVD).
Today, there are over 12,500 Serrans in 332 Serra Clubs in the United States. Each Serran and Serra Club is supported in their ministry by District Governors, Regional Directors, National Committees, the USA Council Board and the Chicago Staff.
Newsletters