Marriage Preparation
A Message from Archbishop Kurtz to all Engaged Couples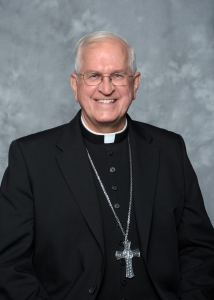 I rejoice with you in your love and your decision to marry. The vision of Christian marriage, given to us by God, calls you to embrace a love that is permanent, faithful and open to new life. The Church commits itself to assisting you as you make this commitment of love with a deep trust in God and in each other. We rejoice as your love deepens and comes to resemble the very love of Christ for his Church.
Your love today, as beautiful as it is, is just a hint of what it can become. Your journey together through life's laughter and tears can deepen your love and strengthen your faith.
It is not easy in these times to sustain the life-long pledge of married love. Yet in the sacrament of matrimony, you have the promise and power of the Lord Himself to help you. Invite Him into your marriage. Together in prayer, ask for His help and you will be able to weather any storm or endure any trial life may bring.
As a sign of the concern and support of the church community, the many resources here on our website have been developed to help you prepare well, not only for your wedding, but more importantly, for your lifetime together. As you approach your marriage, we urge you to take time to reflect on the sacrament you will receive and on the promises you will make to one another. Pray together for God's blessings in your life.
God Bless,

Most Reverend Joseph E. Kurtz, D.D.
Archbishop of Louisville
Additional Information on Marriage in the Catholic Church
Interfaith or Inter-Denominational Marriages

The Catholic church considers the marriage between baptized Christians to be a sacrament. Yet, it is only realistic to recognize that religious differences can give rise to tensions within a marriage. Such marriages deserve careful attention and support.

When the person who is not Catholic is active in his or her faith, consideration should be given to the possibility of the following options:

CLICK HERE for additional information from For Your Marriage

1. Inviting the participation of the minister of the non-Catholic faith tradition to be part of the marriage preparation.

2. Inviting the Christian minister to participate in the wedding ceremony.

Because of issues concerning Eucharistic sharing that may arise from the presence of non-Catholic witnesses and guests, a marriage between a person who is Christian yet not Catholic and one who is Catholic is celebrated according to the Catholic form and ordinarily takes place outside the Eucharistic liturgy. For a just cause, however, the archdiocesan bishop may permit the celebration of Eucharist.

When the marriage is between a Catholic and a person of a non-Christian faith (e.g. Catholic and a Jew or Muslim, etc.), special care should be taken to ensure respect for both traditions. For appropriate guidelines, consult the Office of Ecumenical and Interreligious Relations, 502-636-0296.

Resources

Association of Interchurch Families – assists interchurch families through education, support, spiritual growth, outreach and fellowship. AAIF is a worldwide website for interchurch families.


Validation of Marriage

Remembering that this new act of consent (in the validation) will create the only valid marriage, these situations will vary widely. In the case of recently, civilly married couples, the full preparation period is usually indicated; this is always the case when the civil marriage was entered to avoid the six-month preparation process. Even in the case of a couple civilly married for many years, an assessment of their previous involvement in the church and of the stability of their marital relationship requires a time for preparation.

Consultation with priest, deacon or pastoral administrator for appropriate preparation is necessary.

Cohabitation

Modern social customs do not support the Christian ideal of marriage as firmly as in past times. There is less social stigma attached to the practice of cohabitating before marriage. This arrangement is inconsistent with Christian marriage and with a Catholic way of life.

CLICK HERE for additional information

The Catholic Christian community looks upon marriage as the public promise of a man and a woman to a covenant of mutual unselfish love, fidelity, permanence and openness to children. Further, the Sacrament of Marriage is a sign of God's love for humanity and Christ's love for the church. Couples who cohabit (that is, who live together in a sexual relationship when not married) have not formally pledged themselves to these values, nor has the Catholic Christian community formally committed itself to supporting the couple.

If a couple is cohabitating, this does not mean that they are denied marriage in the church. It does mean that the couple may be asked to explore their reality and why they are choosing to celebrate the sacrament of marriage at this time.

Resources

Living Together and Christian Commitment: A Reflection for Engaged Couples Who are Living Together. James Healy, PhD.

Getting Married, Living Together – A Guide for Engaged Couples. Anthony Garascia
(Ave Maria Press)

Marriage of Minors

Generally, marriages between teenagers are to be discouraged since statistical evidence indicates that the probability of permanence in such marriages is greatly reduced. If either party is not yet nineteen years old, consideration for marriage in the church will be given only after consultation with parents and after a favorable recommendation from a counselor approved by the archdiocese. Rarely, if ever, is permission given for anyone under eighteen.

Pregnancy Before Marriage

When pregnancy occurs outside of marriage, it is a time of great stress and turmoil for the parties involved and their families. The church views such situations with compassion and concern. However, marriage should not automatically be presumed to be the appropriate solution for the child or its parents in these cases.The priest/deacon may offer counsel regarding other morally acceptable alternatives. In any case, the fact of pregnancy does not diminish the need for marriage preparation as described here. Indeed, it is even more vital to the success of such marriages that the established procedures be observed and the couple honor the six months of preparation.

If either member is under nineteen years old or was not engaged prior to the pregnancy, special counseling and evaluation must be obtained from a counselor approved by the archdiocese. This counseling must be completed before any consideration will be given to the request for marriage in the church.

Pre-Marriage Counseling

When special circumstances suggest the need for further pre-marriage counseling, the priest or deacon will refer the couple to an approved archdiocesan counselor. Counseling is required in the following situations:

When either party is under 19 years of age.
When the woman is pregnant prior to public engagement.
When the priest or deacon considers there to be a lack of readiness on the part of either party.
When required by the Chancery upon completion of a marriage case.

At the Family Ministries Counseling Services, pre-marriage counseling generally consists of a series of three or more sessions with trained and recommended outside counselors. These sessions are designed primarily to help the couple evaluate their relationship and secondarily to assist the parish priest or deacon in determining the couple's readiness for marriage. Contact the counseling services at 502/636-1044 for more information or to obtain a referral.

Delay of Marriage

Marriage exists for the good of the individual spouses and for the good of the community. The right to marry is a fundamental right grounded in human nature itself, and both civil and canon law protect this right. Thus, a priest or deacon may not lightly delay a wedding of a parishioner who is free to marry. However, for a just reason, a priest or deacon may recommend a wedding be delayed. In a few cases and for a serious reason, a priest or deacon, acting in good conscience, may refuse to act as the "witness for the church" in a particular wedding.

The purpose of this process is to ensure due process to the couples and to protect their rights against arbitrary decisions by pastoral ministers. When an appeal to the Chancery is made, the priest or deacon will be asked to explain his reasons for the delay, which must be sound reasons that can be documented. The couple has a right to a final decision within thirty days of their appeal to the Chancery.
ForYourMarriage.org – Provides tips to keep your marriage alive plus much, much more.
Making a Case for Marriage – A series of short presentations. Total of eight topics. Shows how church belief and teaching about marriage are strengthened and confirmed by the findings of social science research.

Marriage: Unique for A Reason
Want to brush up on the basics of marriage?
Want to dive in deep to Church teaching?
For videos addressing marriage and what makes it unique. (See "Sexual Difference" and "Children" Headings.)

National Association for Catholic Family Life Ministers.


Smart Marriages – sponsored by the Coalition for Marriage, Family and Couples Education.