Calvary Cemetery

1600 Newburg Road
Established in 1921 – 160 acres (120 acres in use)
Calvary Cemetery opened in 1921 and is the largest of the Catholic cemeteries. Calvary is home to the Catholic Cemeteries office. A statue of Rachel mourning silently sits in the center of the Holy Innocents section for infants of all faiths.
Archbishops Floersh and McDonough and Bishop Maloney are buried at Calvary in the section for Diocesan priests. The Sisters of Mercy, Resurrectionist priests and Xaverian brothers also have lots at Calvary. Various sized lots, community mausoleums and columbariums, two committal chapels and family mausoleums transform the valleys and hills into a city of stone and art.
Approximately 50,000 have been laid to rest at Calvary.
---
Saint Michael Cemetery

1153 Charles Street
Established in 1851 – 48 acres in use
St. Michael Cemetery opened in 1851 and was designated as a German Catholic Cemetery. The property was originally called "St. Michael – Gottes Acker," which means "God's Acre."
The parishes of St. Boniface, St. Martin and St. Vincent De Paul were originally responsible for the maintenance of St. Michael. St. Elizabeth of Hungary added its support in 1906. Diocesan and Franciscan priests, Ursuline Sisters, Sisters of St. Frances and Sisters of Notre Dame have their lots at St. Michael.
This cemetery has provided burials for approximately 40,000 people.
---
Saint Louis Cemetery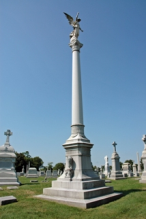 1167 Barret Avenue
Established in 1867 – 43 acres in use
The first St. Louis Cemetery opened for services in 1811 and was located behind the original St. Louis Church at 10th and Main Streets. When St. Louis Church was relocated in 1831, the grave sites were moved to the Catholic section of Western Cemetery. The grave sites were later moved to the present St. Louis Cemetery, which was opened in 1867.
St. Louis Cemetery was known as the "Irish" Catholic cemetery, but Catholics from many different heritages have been laid to rest there. Diocesan priests, Xaverian Brothers and Little Sisters of the Poor have lots in St. Louis Cemetery. More than a mile of limestone wall surrounds the property.
Close to 50,000 burials have taken place at St. Louis Cemetery.
---
Saint John Cemetery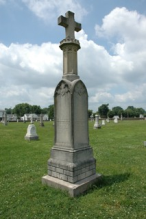 26th and Duncan Streets
Established in 1851 – 9 acres
Originally called St. Mary's, St. John opened in 1851. It was often referred to as the "German Catholic cemetery near Portland."
More than 8,400 burials have taken place at St. John Cemetery.