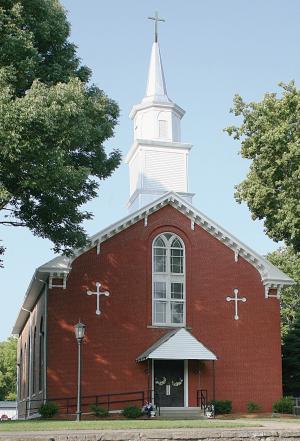 Clergy
Pastor: Rev. John R. Johnson
Permanent Deacon: Carl A. Fahringer, Patrick D. Harris
Pastoral Staff
Director of Religious Education: Gilly Simpson
Music: Carolyn Hurd
Business Manager/Bookkeeper: Rhonda Crepps
Mass Schedule
Sundays — Sat evening: 6:00 p.m.; Sun: 10:00 a.m.
Holy Days — Holy Day: 7:00 p.m.
Reconciliation
See priest before or after weekend Masses
History
St. Michael, founded in 1792, served Catholics migrating from Maryland to the frontier. The oldest parish in Nelson County and the third oldest extant parish in the Archdiocese, this small rural parish includes members whose ancestry dates back to the area's original settlers. The parish produced numerous priests who served newly established parishes and dozens of sisters including Mother Catherine Spalding, co-founder of the Sisters of Charity of Nazareth, who educated frontier children. Several of its pastors later became bishops. Louisville's first parish, St. Louis, began as a mission of St. Michael; its church was rebuilt and renamed in 1852 and is known today as the Cathedral of the Assumption.
The Sisters of Loretto opened a Fairfield school named Bethania in 1821. Because several sisters died during its short duration, the remaining sisters were recalled to the motherhouse, and the school closed in 1827. The Sisters of Charity of Nazareth reopened it in 1829, but a cholera epidemic closed it again in 1832. Louisville's Helen Smith opened the most successful school in 1908. Later it became known as St. Michael School, thriving under the leadership of the Ursuline Sisters of Mount St. Joseph from 1913 until its closing in 1968.
Demographic changes brought expansion to St. Michael in the mid-1990s, spurring two renovations of the school building to accommodate the growing religious education program. In 2005, the parish completed a new parish hall, called Gardiner Hall. The music ministry has greatly benefited from the parish's growth. Comprised largely of school alumni/ae, the choir continues to enrich the liturgies.
Four church structures have served the parish during its 200 years. The current church's 125th anniversary in 2008 coincided with the 200th anniversary of the Archdiocese. In 2011 the parish completed its plans to restore and renovate the church's interior. The sanctuary was expanded, the ceiling, choir loft, and stained glass windows were all repaired, and a new altar and ambo were fabricated to match the existing communion railing.
The history and faith of St. Michael Parish is vibrant and strong. As parishioners take on leadership roles, they look to the example of their pioneer ancestors who settled the area without a church or a priest. Clustered with the Basilica of St. Joseph Proto-Cathedral in 2005 and with All Saints, Taylorsville in 2017, St. Michael is in its third century with well over 600 members and a commitment to passing on the faith to the next generation.