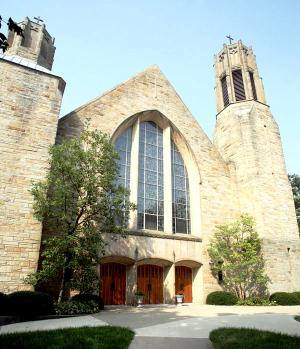 Clergy
Pastor: Rev. Anthony L. Chandler
Permanent Deacons: Darryl J. Diemer and Michael S. Sowers
Pastoral Staff
Director of Religious Education: JoAnn Jones
School Principal: Steve Frommeyer
Youth Minister: Sierra Altenstadter
Music Director: Dawn Wright
Parish Administrator: Scott U'Sellis
Staff Accountant: Stacy Nicolas
Office Manager: Debra Renauer
Mass Schedule
Sundays — Sat evening: 4:30 p.m.; Sun: 10 a.m.
Holy Days — Holy Day: 7 p.m.
Daily — Tue -Fri: 8:30 a.m.
Reconciliation
Saturdays — 3:00-4:00 p.m.
History
Recognizing that many German immigrants were settling Louisville's eastern section, Bishop William G. McCloskey designated this area as the site for a new parish dedicated to Saint Francis of Assisi. He appointed a young German priest, Father Bernard Westermann, as pastor. Father Westermann and parishioners cleared a two-acre tract purchased for the church, graded the property, and began construction in 1886.
Two months after Bishop McCloskey dedicated the church in 1886, he blessed a 1,000-pound bell that was finally lifted into the tower of the third church building in time to ring in the third millennium. The bell had hung in the tower of the first church, but was put in a cupola in the rectory garage after the first church was torn down to build the second structure, dedicated in 1926. In the 113 years since the bell's blessing, St. Francis had been transformed from a wood-frame church serving German farmers outside the city to a stone church that has become a landmark for Louisville's Highlands since 1950.
In 1887 parishioners built and opened a small frame school, staffed by the Sisters of Mercy and later by the Ursuline Sisters of Louisville. As the Highlands grew from a farm community to a suburb to a diverse and vibrant urban neighborhood, St. Francis has adapted and grown, becoming more diverse but managing to remain a close-knit community. Its varied ministries serve the community, support the school, and aid the needy.
Although many of today's approximately 2,300 parishioners grew up near the church and their children attend school in the building where their parents and grandparents once studied, new families moving to the area come from Asia, Europe, and South America. The parish consists of a mix of young professionals, young families, and an aging population.
St. Francis's church's bells can be heard throughout the area, calling all to celebrate.