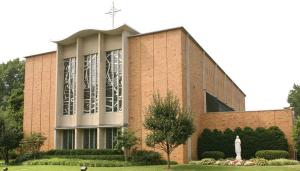 Clergy
Pastor: Rev. Scott J. Wimsett
Permanent Deacon: Timothy B. Ayers
Pastoral Staff
Director of Adult Faith Formation: Doug Wolz
School Principal: Jeffrey Beavin
Director of Youth Ministry: Bill Ash
Liturgy/Music Coordinator: Sarah Tonini
Coordinator of Family Ministries: Jennifer Stratman
Parish Director: Gregory DuPont
Bookkeeper: Marie Pierce
Secretary to the Pastor: Markee Rippy
Receptionist/Secretary: Donna Cerjak
Mass Schedule
Sundays — Sat evening: 4:30 p.m.; Sun: 9:30 a.m. (also live-streamed)
Holy Days — See bulletin
Daily — Wed: 12 noon
Reconciliation
Call Parish Office to make an appointment.
Eucharistic Adoration
Wednesdays — Following noon Mass until 1:30 p.m.
History
Our Lady of Lourdes Parish was established by Archbishop John A. Floersh in 1950. Carved from the old Holy Trinity Parish, which had ministered to Catholics of the St. Matthews area since 1882, Lourdes began with 300 families. The first pastor was Father Anthony G. Gerst.
Very soon property was purchased, and plans were drawn up for a church building. The school opened in 1950 and was served by the Ursuline Sisters of Louisville. The parish grew rapidly after the Second Vatican Council through full implementation of its concepts of lay ministry, active outreach, full stewardship, and strong community life. The first parish council was formed in 1973. It laid the foundation for the lay leadership that characterizes the parish today. The church and parish facilities were redesigned and reconstructed in 1995.
With a very strong and dedicated parish staff, Lourdes stepped into the new millennium with well-developed lay leadership and 100-plus forms of ministry, including parish services from birth to burial.
Today with over 3,700 parishioners, the parish is firmly committed to living active stewardship, offering Christian formation at every age level, doing significant outreach to care for the needy, and working for the formation of an ever-stronger parish community through worship, formation, and service.