New Hope, Nelson Co.
Established 1820
Registrations: 142
Address
Saint Vincent de Paul Church
(Please note: parish mailing address is different from its location.)
Location: 104 Church Street
New Hope, KY 40052-6933
Parish Information
(Attended from St. Catherine, New Haven)
Mail To: c/o St. Catherine Church, 413 N 1st St, New Haven, KY  40051
Phone: (502) 549-3680
Email: parishoffice@saintcatherineschool.com
Website: www.stvincentdepaulnewhope.org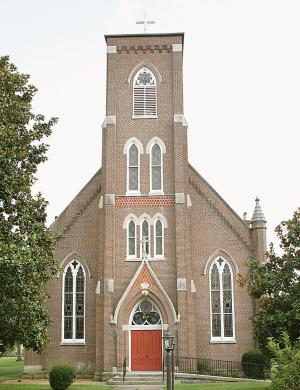 Clergy
Pastor: Rev. Matthew T. Hardesty
In Residence: Rev. Kenneth R. Fortener
Permanent Deacon: Dean R. Giulitto
Pastoral Staff
Business Manager: Stacie Mudd
Administrative Assistant: Tonia Greenwell
Mass Schedule
Sundays — Sat evening: 4 p.m.; Sun: 8:30 a.m.
Holy Days — See bulletin
Daily — Mon–Wed: 8 a.m.
Reconciliation
Saturdays — 3-3:45 p.m.
Sundays — 8:10-8:25 a.m.
Any time by appointment
History
The seeds of St. Vincent de Paul were planted in New Hope in 1800 when a settler, James Dant, established St. Barbara Chapel in his home; there Father Charles Nerinckx offered the sacraments. Father Nerinckx built a log cabin chapel in 1819—St. Vincent de Paul—near the Dant farm. A larger, brick church was built on the same site in the late 1850s. Father John Francis McSherry, named the parish's first pastor in 1883, built a rectory. A second church, consecrated in 1859, was used until the present structure was constructed in 1887.
A school, staffed by the Sisters of Charity, opened in 1890. It functioned as a Catholic school except from 1934 to 1945, when it became public because the universal joblessness of the Great Depression prohibited tuition payments. After 1945, lay teachers joined the Sisters in operating it as Catholic school until its closure in 1975.
Father Christopher Allegra, parish administrator in 1993, published the first pictorial directory and led a church renovation that included the restoration of the sanctuary's angels located in the apse dome.
Father Clarence Howard became pastor when the parish was clustered with St. Catherine Church in the late 1990s. It was clustered with St. Francis Xavier in Raywick in 2000. The pastor of this second cluster, Father James Graf, spearheaded some fine renovations to the old school building that greatly improved the interior and fostered more interest in the religious education program. He also reactivated dormant parish committees.
The church has undergone a recent restoration of the sanctuary's wood floor, the installation of a new floor for the nave, and the replacement of the original electrical wiring. With about 550 parishioners, St. Vincent is the spiritual hub of New Hope.