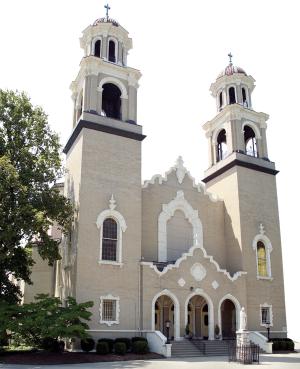 Clergy
Pastor: Rev. Philip L. Erickson
Permanent Deacon: Timothy E. Stewart
Pastoral Staff
Liturgy Coordinator: Regina Herdt
Business Manager: Lisa Baxter
Bookkeeper: Elaine Hambleton
Secretary: Clare Vize
Mass Schedule
Sundays — Sat evening: 4 p.m.
Holy Days — See bulletin
Daily — Thu: 5:30 p.m.
Reconciliation
Saturdays — 3–3:30 p.m.
History
Saint Therese Church began in 1906 as Holy Trinity Parish. With its German-born founding pastor, Father John Peter Berresheim, the new parish provided a spiritual home for the second- and third-generation German-Americans moving to the outskirts of Louisville.
Initially there were no buildings to accommodate parish needs. In a private home, the parish opened a school, staffed by the Ursuline Sisters of Louisville. The owners moved out during the day while school was in session. Construction of a combination school and church was already underway, and the new building opened in 1907 with classrooms on the second floor, the church on the first floor, and a social activities space in the basement. Dedicated in 1908, the entire structure was later converted to a school building.
The parish and school grew, requiring additional space. Construction of a new church began in 1927. It was dedicated the same year. Because there were two churches named Holy Trinity, then-pastor Father Andrew Zoeller requested that the new church be named in honor of the newly canonized Carmelite Sister, Saint Therese of Lisieux, popularly known as "The Little Flower." The church was remodeled in 1968 with a centered stone altar surrounded by seats. The innovative design was controversial but served as a model for the renovation of other churches after the Second Vatican Council.
After the boom years of the 1950s and 1960s, the dwindling number of students suggested a consolidation of Catholic schools. Saint Therese School consolidated in 1992 with Saint Elizabeth of Hungary and Saint Louis Bertrand, to become Saint Rose School, which closed in 2004. Saint Therese was clustered in 1994 with Saint Elizabeth of Hungary Parish and now is clustered with Saint Elizabeth and Our Mother of Sorrows Parish. All three parishes share the same pastor and staff.
Through its hospitality and liturgy, the parish continues to be the cornerstone of stability as the Germantown neighborhood develops.