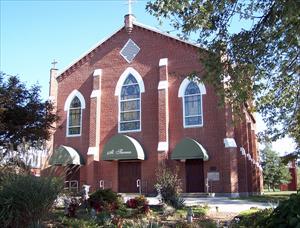 Clergy
Pastor: Rev. George S. Illikkal, C.M.I.
Permanent Deacon: Gregory A. Beavin
Pastoral Staff
Director of Religious Education: Susan McCoy
Family Ministries Coordinator: Diane Rogers
Director of Music: Tammy Cashman
Office Manager: Kathy Shacklett
Mass Schedule
Sundays — Sat evening: 6 p.m. (July-December); Sun: 10:30 a.m.
Holy Days — See bulletin
Daily — Tue, Thu: 8:30 a.m.
Reconciliation
Sundays — following the 10:30 a.m. Mass
Saturdays — 5:15-5:45 p.m. (July thru December)
History
St. Theresa Church in Rhodelia is the oldest Catholic church in Meade County, where Catholic settlers began arriving in the late 1700s. Traveling missionaries said Mass in the pioneers' log homes (called stations). The first recorded visit was in 1805.
Devoted Catholics built a log church called St. Theresa in 1818 on the banks of the Ohio River in Breckinridge County. Local baptismal records start in 1824. The congregation relocated in 1826 to a more central site in Meade County, closer to most parishioners' homes. There, they constructed a second log church, recalled by a large wooden cross in the "old cemetery." Many baptisms, first communions, and confirmations are recorded from Bishop Benedict Joseph Flaget's visit in 1827. St. Theresa's congregation was the largest in Meade and Hardin counties when Father Charles Ignatius Coomes was assigned to these missions in 1830. Here he located his headquarters, becoming the first resident pastor.
Parishioners supplied materials and labor, constructing the present church under the direction of William Kelly, architect of the Cathedral of the Assumption. In use by summer 1857, it was dedicated June 16, 1861 by Bishop Martin John Spalding. The parish added the "new cemetery," a parish hall, the present rectory, and a new school in the twentieth century.
St. Theresa Academy opened as a boarding and day school in 1866. The Sisters of Loretto, the first teachers, were succeeded in 1870 by the Sisters of Charity of Nazareth. Though the Meade County Board of Education took it over in the 1950s, the Sisters of Charity continued teaching at the school until it closed in 1993. By that time, St. Theresa had educated children for more than 125 years.
Today, the parishioners of St. Theresa, numbering about 500, share much common history and, like their ancestors, a strong sense of ownership for their parish.