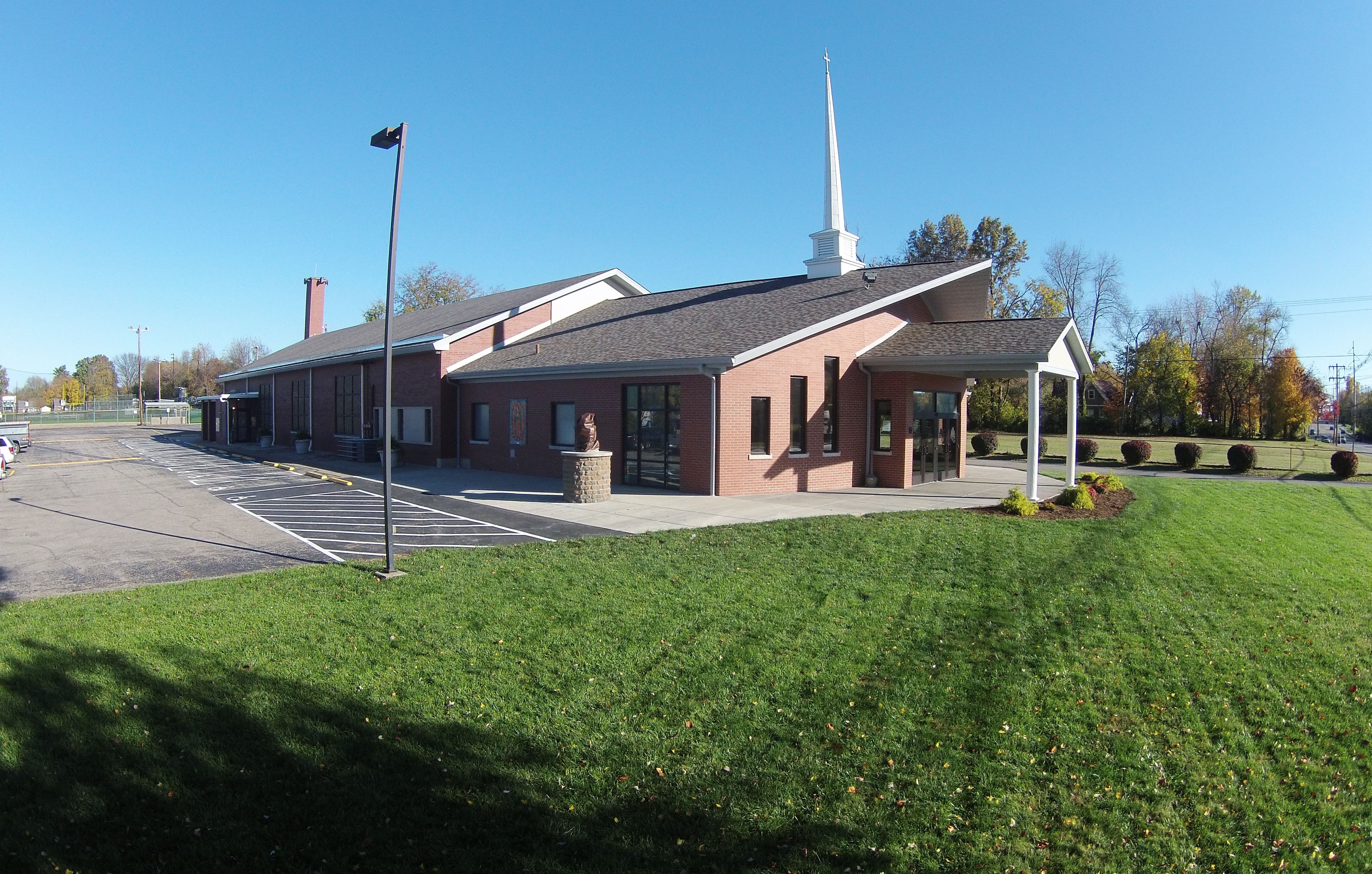 Clergy
Pastor: Rev. Joseph M. Rankin
Retired in Residence: Rev. Gerald L. Bell
Permanent Deacons: Kenneth J. Mitchell, Aurelio A. Puga
Pastoral Staff
Pastoral Associates: Sr. Isamary Garcia, SCN
Director of Religious Education: Diana Watson
School Principal: Neil Hulsewede
Director of Music: Mary Ann Rausch
Hispanic Social Services : Yolanda Moore
Business Manager: Roger Costello
Bookkeeper: Penny Oliver
Bookkeeper/Secretary: Yvonne Grimes
Secretary: Wanda Puga
Mass Schedule
Sundays — Sat evening: 5 p.m.; Sun: 9 a.m., 11 a.m., 1 p.m. (Spanish)
Holy Days — See bulletin
Daily — Mon: 12 noon; Thu: 8 a.m.
Reconciliation
Saturdays — 4 p.m.
Eucharistic Adoration
Thursdays — 8:45–11:45 a.m.
History
A card party held at Okolona Hall on September 29, 1916, netted $75. It was to be the beginning of a fund for the construction of a Catholic church in south central Jefferson County. In February 1917, a down-payment was made on a plot of ground for the new church. Permission was granted to begin a new parish, and construction began July 10, 1921. St. Rita Church was dedicated on February 22, 1922. A rectory followed in 1926 and a school in 1928 with an enrollment of seventy-eight students, taught by the Ursuline Sisters of Louisville.
The parish was attended from St. Leo by Father Joseph A. Newman until 1928, when Father Edward Link, chaplain of St. Thomas Orphan Home, was appointed administrator of the parish. In 1936 Father Link became the first resident pastor.
The housing explosion following World War II resulted in the need for a large addition to the school, which was blessed in 1950. The present, larger church was dedicated in 1954. In 1956, additions also were constructed for the convent and rectory.
Throughout the history of St. Rita, its parishioners have lived out their calling through involvement in many types and styles of ministries. The spirituality of St. Rita has been evident in religious education and RCIA programs, as well as in its school, early childhood education, and Hispanic ministries. Beginning in 1997, St. Rita was one of the first parishes in the Archdiocese to offer Mass in Spanish to meet the needs of the increasing number of Hispanic families in the Okolona area. From its original forty families, membership has now increased to more than 3,200 parishioners, nearly 700 of these being Hispanic.