Saint Raphael the Archangel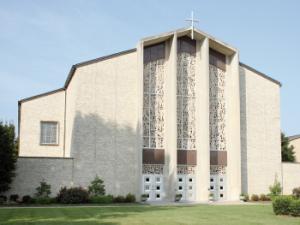 Clergy
Pastor: Rev. Shayne R. Duvall
Senior Associate: Rev. Gary Davis
Permanent Deacon: Dennis M. Nash
Pastoral Staff
Pastoral Associate/DRE: Diane Justice
School Principal: Jill Tabor
Youth Ministry Coordinator: Chad Bader
Director of Music – Elizabeth Jackson
Pastoral Care and Outreach Coordinator: Shannon Leon
Business Manager: Debbie Selby
Parish Bookkeeper: Nancy Marx
Administrative/Bookkeeper Assistant: Angela Springer
Mass Schedule
Sundays — Sat evening: 4 p.m.; Sun: 8:30 a.m., 10:30 a.m.
Holy Days — See bulletin
Daily — Mon–Fri: 12 noon
Reconciliation
Saturdays — 2:30–3:30 p.m.
History
In 1947, the "suburbia boom" caused St. Francis of Assisi to begin to burst at the seams, and Archbishop John A. Floersh decided to establish a new parish for Catholics of the upper Highlands of Louisville. A large farmhouse on Bardstown Road became the gathering space for 400 families who immediately initiated plans for a church and school. On the feast of Saint Raphael, October 2, 1948, the first Mass was celebrated in the new building. Father Leo J. Sheeran was the first pastor. The same year, the school opened under the direction of the Ursuline Sisters of Louisville, who served St. Raphael School until 1996.
St. Raphael is a strong and vibrant community with a healthy mix of senior and young adult families. Today, St. Raphael School has more than 300 students from kindergarten to grade eight. The school has received several accolades including a Blue Ribbon School of Excellence Award from the United States Department of Education, a Blue Ribbon Lighthouse Award, and an Intel-Scholastic School of Distinction Award.
With over 2,500 parishioners, the parish has over forty committees engaged in all areas, from social outreach to spiritual formation. St. Raphael is an active member of the Highland Five, which consists of five local Catholic parishes working together in social ministries, liturgical events, Highlands Community Ministries, and ministry to senior adults and youth.