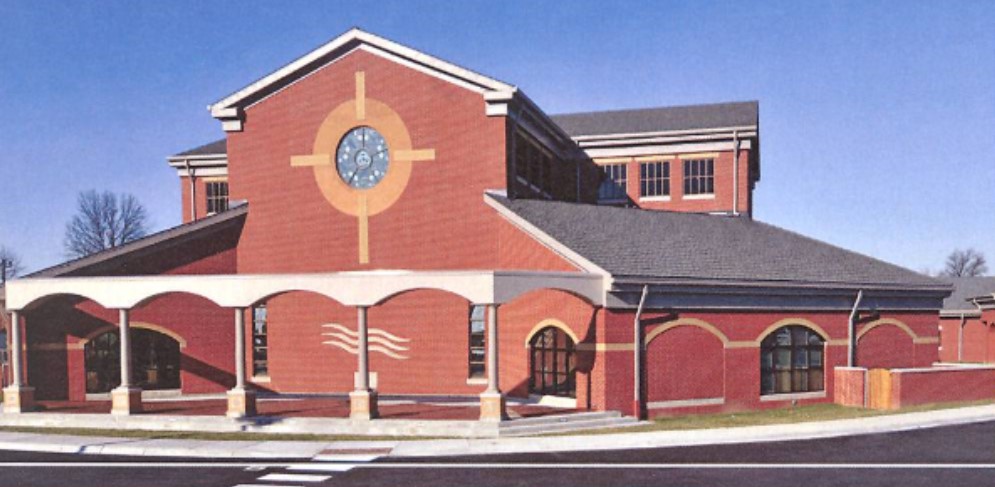 Clergy
Pastor: Rev. Christopher B. Lubecke
Hispanic Ministry: Rev. Juan L. Gómez
Permanent Deacons: Gregory L. Klinglesmith, Stephan J. Smith
Pastoral Staff
Director of Faith Formation: Open
Director of Religious Education: Betty Rowland
Coordinator of  Hispanic Ministry: Erika Quintero
School Principal (Saint Andrew Academy): Stuart "Butch"Cripe
Director of Worship: Open
Music Minister: Pat Guobis
Business Manager: Ken Cusick
Bookkeeper: Harriet Hicks
Administrative Assistant: Jennifer Broda
Secretary: Beverly Colyer
Mass Schedule
Sundays — Sat evening: 4:30 p.m.; Sun: 8 a.m., 9:45 a.m. (Spanish), 11:30 a.m.
Holy Days — Contact parish
Daily —  Tue, Wed, Thu, Fri: 8 a.m. (During the school year, the Friday Mass is at St. Andrew Academy.)
Reconciliation
Saturdays — 3:30–4 p.m.
Eucharistic Adoration
First and Third Fridays — 4–6 p.m., Our Lady's Chapel at Saint Peter the Apostle Church
History
Saint Peter the Apostle Catholic Church is the first five-church merger in the Archdiocese of Louisville and is one of a handful of mergers this size in the country. The creation of this parish came out of the sacrifice of its people to unite into one parish for the resourceful management of assets and a new spiritual direction for an already strongly-established community of believers. At the present, there are about 1,600 registered families in the parish. These more than 3,600 parishioners are worshipping at a newly-constructed, 1,200-seat church that was completed in 2010.
The parish school, Saint Andrew Academy, is located at 7724 Columbine Drive and represents a commitment of this parish to the education of its children. These faith-filled people are proud of their civic communities of Pleasure Ridge Park and Valley Station, and the sharing of their Christian Catholic heritage reflects a true blessing of fellowship.
The mission statement of Saint Peter the Apostle Parish says it clearly. We are "committed to announcing the Good News of Jesus Christ and thus forming its members into a community of disciples who make God's love known." Our four goals are to generate parish unity, live our faith joyfully, nourish our faith continually, and proclaim our faith through action.