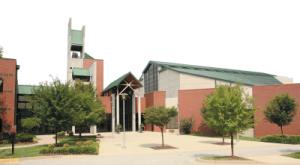 Clergy
Pastor: Rev. Jeffrey P. Shooner
Senior Associate: Rev. Robert E. Osborne
Associate: Rev. Steven Reeves
In Residence: Rev. T. Anthony Smith
Permanent Deacons: Gregory M. Gitschier, Scott R. Haner, Mark J. Rougeux
Pastoral Staff
Pastoral Associate: Carrie Williamson
Director Faith Formation: Tim Grove
School Principal: Nathan Sturtzel
Director of Youth Ministry: Jonna O'Bryan
Children's Formation Coordinator: Tammy Kessler
Director of Worship & Music: Julie Roth
Director of Mission Advancement: Lynne Marshall
Coordinator of Hospitality & Communication: Erik Huff
Business Manager: David Naber
Bookkeeper: Gale Gowen
Assistant Bookkeeper: Lisa Zirnheld
Assistant to the Pastor/Communications Specialist: Jeanette Rowland
Parish Administrative Assistant: Lori Mehlbauer
Mass Schedule
Sundays — Sat evening: 5 p.m.; Sun: 8:30 a.m., 11 a.m.
Holy Days — See bulletin
Daily — Mon: 5 p.m.; Tue–Fri: 8 a.m.
Reconciliation
Saturdays — 4–4:30 p.m.
Eucharistic Adoration
Tuesdays — 5–10 p.m.
History
The Catholic Community of St. Patrick was established in June 1988 by Archbishop Thomas C. Kelly O.P. The first Mass was celebrated on June 22 at the Eastwood Community Center. For the first two years, Mass continued to be celebrated there. In 1990, the parish leased a building in the Middletown Industrial Center, affectionately called "the warehouse." As the parish continued to grow, parishioners formed a long-range planning committee to search for a permanent site. Father John L. Schindler was the founding pastor.
In August 1993, the parish moved to its present site at 1000 North Beckley Station Road. This move facilitated the establishment of St. Patrick School. A single building accommodated the church, parish school, and related offices. In August 1997, a new Miles Hall, named after two founding members of the community, provided space for seventeen classrooms for lifelong formation.
The final building phase, completed in 2001, included a 1,200-seat worship space, twelve additional classrooms in the Mary Beth Bowling Educational Center for the Arts and Sciences and Middle School, and the Celtic Center, a multi-purpose gymnasium. The new church was dedicated on October 14, 2001. Today, St. Patrick has over 5,000 parishioners and is committed to the following mission statement:
"We are the welcoming Catholic Community of St. Patrick, a beacon of Christ's love, where all ages support each other as we journey to a more intimate relationship with God. We grow in Christ by praising the Lord joyfully in our Eucharistic celebrations, embracing lifelong education and spiritual growth, building a vibrant and caring parish family, and reaching out generously to those in need. We are committed to stewardship as a way of life, gratefully giving our first fruits of time, talent, and treasure to serve the Lord."