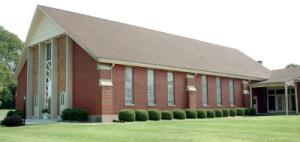 Clergy
Pastor: Rev. J. Jason Harris
Permanent Deacon: Scott R. Turner
Pastoral Staff
(An asterisk by staff's name indicates that he or she is a volunteer and cannot be routinely reached at the parish office. For questions about this area of ministry, please contact the parish office.)
Worship: Bryant Wickliffe*
Bookkeeper: Kim Hall
Secretary: Marilyn J. Keene
Mass Schedule
Sundays — Sun: 9 a.m.
Holy Days — See bulletin
Daily — Tue: 6:30 p.m., Wed: 9 a.m.
Reconciliation
Tuesdays — 5:30-6:30 p.m.
Eucharistic Adoration
Tuesdays — 5:15-6:30 p.m.
History
Although St. Monica was canonically established in 1956, the faith community had its origin more than a century ago when white Catholic settlers arrived with their slaves, who worshiped at St. Joseph Cathedral. In 1871, the Sisters of Charity of Nazareth opened St. Monica School for the children of Black Catholics. Longing for more active participation in the spiritual and social opportunities of their faith, Father Michael Lally was assigned to the Black Catholic community in 1942, and St. Monica became a mission parish the following year. Parishioners worshipped in St. Monica Chapel—a two-room structure that was rearranged each Sunday for services.
Finally on September 23, 1956, Archbishop John Floersh blessed a new church, whose debt of $186,000 Father Lally paid in full before he was transferred in 1960—a result of seventeen years of effective stewardship. For two decades St. Monica was called "Father Lally's Church." A convent in 1960 relieved the Sisters of a daily trip from Nazareth. The school merged with St. Joseph School in 1966 but closed four years later. The Sisters then established a religious education program at St. Monica.
At the parish's silver jubilee in 1968, the church was renovated. The Sisters of Notre Dame began teaching in the parish school of religion in 1972. The parish experienced further revitalization when it participated in RENEW 2000.
Today with over 250 parishioners, St. Monica is a multicultural parish that faithfully worships God and proclaims the Gospel, both at services and through participation in movements to bring justice to the larger community.