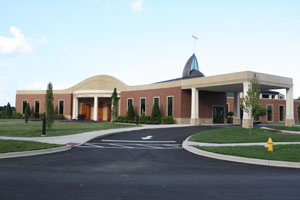 Clergy
Pastor: Rev. Steven D. Henriksen
Permanent Deacons: Kenneth J. Carter, Mark D. Kelley
Pastoral Staff
Director of Lifelong Formation: Maureen Rogg
School Principal: Stacy Tackett
Youth Minister: Aaron Frazita
Director of Worship and Assistant to the Pastor: Dennis O'Donoghue
Director of Communications: Michael Raymer
Chief Operating Officer: Kelly Collard
Bookkeeper: Rick Hohmann
Executive Assistant to the Pastor: Sheryl Krieger
Financial Administrative Assistant: Michelle Donahue
Mass Schedule
Sundays — Sat evening: 4 p.m.; Sun: 8:00 a.m., 10 a.m.
Holy Days — Holy Day: See bulletin
Daily — Tue–Thu: 8:15 a.m.
Reconciliation
First or Second Saturdays — 3 p.m.
First or Second Sundays —9:30 a.m.
(see dates on website) or by appointment
History
Jeffersontown Catholics were becoming more numerous, and St. Edward Parish was overflowing. On June 17, 1975, Archbishop Thomas J. McDonough assigned Father Charles Borgia McCauley to work with parishioners who were interested in establishing a new parish. The first Mass at what was then called the Catholic Chapel was offered on November 30, 1975. The canonical decree establishing the parish of St. Michael was issued in 1976. With a donation of eight acres, ground was broken for a church and rectory on August 12, 1979. Mass was first celebrated in the new church on November 8, 1980.
As the parish grew, the Family Life Center was built and dedicated on April 26, 1992, by Archbishop Thomas C. Kelly, O.P. In 1997, the parish responded to the needs of families in the Jeffersontown area by opening a school in the Family Life Center, which was renamed the St. Michael Life Long Learning Center (LLC). The school began with kindergarten and first grade; the first eighth-grade class graduated in 2005.
A new lifelong learning center was built in 1998. In 2006, a parish community center was completed. A new larger worship space was built to accommodate the growth in the area and was dedicated on June 16, 2013.
From the beginning, St. Michael's strength has been its laity and the founding members who planted the seeds that enabled the parish to grow. Parishioners are active and have a strong commitment to formation for members of all ages. In addition, each of St. Michael's pastors has brought his unique gifts and talents to the community.
Staying ahead of development in the area has been a constant challenge. The goal has always been to maintain that "small parish feeling" as the parish grows. With the completion of the Community Center and the New Worship Space, St. Michael, now with about 5125 parishioners, is poised to meet the needs of its members for years to come.