Saint Mary Magdalen of Pazzi
Payneville, Meade Co.
Established 1883
Registrations: 181
Address
Saint Mary Magdalen of Pazzi Church
(Please note: parish mailing address is different from its location.)
Location: 110 Highway 376,
Payneville, KY 40157-7592
Parish Information
Mail To: PO Box 110, Payneville, KY 40157-0110
Phone: (270) 496-4333
Fax: (270) 496-4790
Email: stmarymag@bbtel.com
Website: http://www.stmarypayneville.org/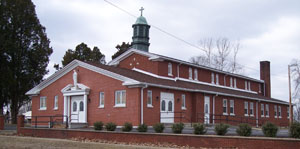 Clergy
Pastor: Rev. George S. Illikkal, C.M.I.
Permanent Deacon: Gregory A. Beavin
Pastoral Staff
Director of Religious Education: Susan McCoy
Director of Music: Tammy Cashman
Office Manager: Kathy Shacklett
Mass Schedule
Sundays — Sat evening: 6 p.m. (January-June); Sun: 8:30 a.m.
Holy Days — See bulletin
Daily — Mon, Wed: 8:30 a.m.
Reconciliation
Sundays — 7:45 to 8:15 a.m.
Saturdays — 5:15 -5:45 p.m. (January thru June)
Eucharistic Adoration
Mondays — 9 a.m.–1 p.m. and 5–9 p.m.
History
St. Mary Magdalen of Pazzi Church in Payneville was formed in 1872 from St. Theresa in Rhodelia and Holy Guardian Angel in Mount Merino, near Irvington. Father Jule Pierre Roaux of St. Theresa, recently arrived from France, was responsible for developing the new parish. A frame church was constructed on two acres, which had been purchased in 1871 for thirty dollars. Two pastors later, in 1879, Bishop William G. McCloskey confirmed fifty people and formally blessed the church.
In 1883, the first resident pastor was Father John Thomas O'Connor, who had been ordained just a week. After building a rectory, he expanded the church for the growing congregation and made many improvements. Additional acreage was purchased later for the cemetery and picnic area. During his eighteen-year pastorate (1902-1920), Father Bernard Doherty remodeled the church and built a beautiful rectory. Fire destroyed the church on March 5, 1936, but the congregation was determined to rebuild, a courageous undertaking during the Great Depression. A red-brick structure with stone trim, seating 450, was blessed by Bishop John A. Floersh on March 29, 1937.
The parish sent seventy-five young men to the armed services during World War II. Many were brothers, including the two Clark brothers killed in action and the six Mattingly brothers. Two daughters of the parish have become Ursuline Sisters. Besides a parish hall built in the 1950s, numerous additions and improvements have been made, including a new rectory basement, porch, and ten new classrooms in the hall.
With almost 500 parishioners, bonds of family and of history knit together this community, which enjoys celebrating together and takes responsibility for the life of the parish.