Saint Martin of Tours Louisville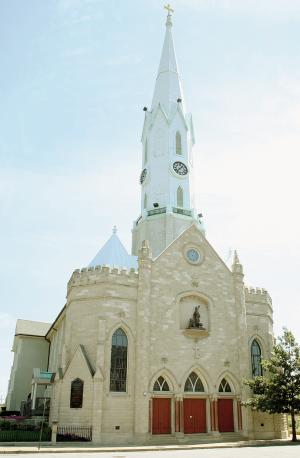 Clergy
Pastor: Very Rev. R. Paul Beach
Associate: Rev. David J. Carr
Permanent Deacons: Robert C. Bryant, Richard P. Zoldak
Pastoral Staff
Director of Religious Education: Cindy Heckmann
Music Director: Emily Meixner
Schuhmann Center Director: Jim Nix
Business Manager: Paul Reinhart
Bookkkeeper: Shelia Williams
Secretary: Christina Williams
Mass Schedule
Sundays — Sat evening: 4 p.m.; Sun: 7:45 a.m., 9 a.m., 10:30 a.m., 12:15 p.m. (EF-Latin)
Holy Days — Vigil: 7 p.m.; Holy Day: 12 noon; 7 p.m. (EF-Latin)
Daily — Mon–Fri: 12 noon
Other Rites
Sundays—3 p.m. Divine Worship Form (The Personal Ordinariate of the Chair of Saint Peter)
Daily — Mon, Wed: 5:30 p.m.; Fri: 9 a.m. (The Personal Ordinariate of the Chair of Saint Peter)
Reconciliation
Mondays — 11:30 a.m.
Fridays — 11:30 a.m.
Saturdays — 3 p.m.
Eucharistic Adoration
24 hours per day, 7 days per week.
History
St. Martin of Tours ranks among the more unique and historic parishes of the Archdiocese. St. Boniface Parish was bursting at the seams with a burgeoning German immigrant population. To accommodate the overflow, Bishop Martin John Spalding founded a new parish and named it in honor of his baptismal patron saint. The first pastor was Father Leander Streber.
Almost as soon as the church opened, xenophobic mobs threatened it with destruction during the riots of Bloody Monday in 1855. Immigrants, considered "foreigners," were targeted.
Among the significant contributions the parish made was introducing the Ursuline Sisters of Louisville into the diocese and fostering a significant number of priestly vocations. St. Martin counted nearly one thousand families by 1900, one of the largest parishes in Kentucky.
By the time of the 1953 centennial celebration, numbers were declining. New parishes had been carved from its original boundaries, the neighborhood was becoming industrialized, and the suburbs were drawing people out. The school closed in 1968, ending its long relationship with the Ursulines. Parish membership was only 125 by the mid 1970s; Sunday collections sometimes amounted to four dollars.
Father Vernon Robertson, pastor in 1977, began a renaissance. He polished the dusty, decrepit gem. He hired a choir and attracted worshipers with beautiful music and rich liturgy. Membership rebounded, launching a major restoration of the church and the pipe organ. The next pastor, Father Dennis Cousens, developed a full schedule of special liturgies and devotions, including perpetual Eucharistic adoration.
Today with more than 1,800 parishioners, the parish is best known for its active prayer life, beautiful statuary, stunning windows, majestic organ, full skeletal relics of two third-century martyrs (Saints Magnus and Bonosa), Eucharistic adoration, and liturgical excellence.