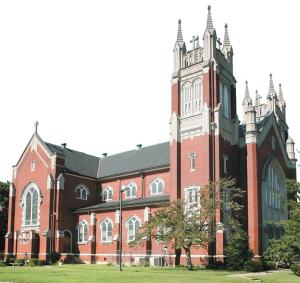 Clergy
Pastor: Rev. J. Randall Hubbard
Associate: Rev. Anthony L. Cecil, Jr.
Permanent Deacon: James R. Turner
Pastoral Staff
(An asterisk by staff's name indicates that he or she is a volunteer and cannot be routinely reached at the parish office. For questions about this area of ministry, please contact the parish office.)
Minister of Music: James Taylor
Office Coordinator: Rochelle Harris
Bookkeeper: Dr. Michael Brooks
Mass Schedule
Sundays — Sun: 10 a.m.
Holy Days — Holy Day: 7 p.m.
Reconciliation
By Appointment
History
St. Martin de Porres Parish began in the spirit of lay leadership that continues to be one of its greatest treasures. The faith communities of St. Benedict, Holy Cross, and St. Charles Parishes in West Louisville convened in early 1987 to explore ways and means of strengthening their congregations, programs and ministries, and of maintaining their facilities. The three small parishes were struggling with financial and human resources.
Their prayer and discernment led to a relationship that would map the future of a newfound community. Prayerful dialogue guided the three groups' leaders to select the Holy Cross facilities as the best site to serve the needs of all. The result was a new parish, founded September 27, 1990.  Through prayer and discernment the community, with the work of the Holy Spirit, chose the name St. Martin de Porres. Father William Medley was the first pastor, serving with Deacons Frederick Higgins and James R. Turner. The parish began with 220 households.
Spearheaded by lay leadership, renovations to meet the needs of the church family and community were made possible through committed stewardship. In 1995 Archbishop Thomas C. Kelly, O.P., dedicated the renovated church in the presence of over 600 people. The former school building now houses the Catholic Enrichment Center, an archdiocesan initiative of educational and social services. St. Martin de Porres is proactive in reaching out to the community, particularly to young men at risk.
Parishioners embrace their gifts as a strong Africentric worshipping family of about 1,300 parishioners with a mission of evangelization. A strategic planning process titled "Vision 5 and Beyond" recently guided an expansion of ministries and services. Blessed by God's goodness, St. Martin de Porres celebrates that "We've Come This Far By Faith" and serves as a beacon of hope in West Louisville.