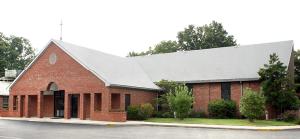 Clergy
Pastor: Rev. Seejo Thandiackal, C.M.I.
Permanent Deacons: Daniel G. Bisig, John P. Maher
Pastoral Staff
Parish Catechetical Leader: Annette Bergamini
Faith Formation Coordinator:  Karin Coll
Youth Minister: Open
School Principal: Suzanne Barnett
Music Minister: A. T. Simpson
Business Manager: Lorna Cloud
Administrative Assistant: Erica Frederick
Publications & Stewardship Coordinator:  Mary Evelyn Thomas
Mass Schedule
Sundays — Sat evening: 4 p.m.; Sun: 8:30 a.m., 11:00 a.m.
Holy Days — See bulletin
Daily — Mon–Fri: 8 a.m.
Reconciliation
Tuesdays — 6:00 p.m.–7:00 p.m.
History
As Catholics moved en masse from the West End of Louisville to settle in the Hikes Point area in the middle 1950s, new parishes were formed to meet their spiritual needs. When these parishes became overcrowded, the Archdiocese purchased seventeen acres on Klondike Lane, and St. Martha Parish was formed. Father James J. Dalton was the first pastor. The first Mass in a new church was celebrated on Thanksgiving 1961 with 424 families on the church roster. The men of the parish constructed the rectory, garage, and walk.
The school opened in 1961 with six teachers and about 200 students. By 1965, 131 students registered for the first grade alone. By 1967 enrollment had increased to 756 with fourteen faculty members.
During the late 1960s, the Second Vatican Council had a big impact, both physically and spiritually, on the St. Martha community. The altar was moved, and the pews were rearranged so that parishioners would have greater involvement in the celebration of the Mass. In 1968 the first parish council was formed, and lay parishioners were called upon to accept greater responsibility in the administration of parish affairs.
In May 1985 the church interior was totally renovated and Bethany Center, a community center for the entire parish, was dedicated. St. Martha became a stewardship parish in 1990. St. Martha had its first permanent deacon in 1993, and several deacons have served the parish since that time. In 2000, the Sister William Carrico Hall expanded the school facilities. The parish office basement was refurbished, and a large room was set aside for youth ministry.
St. Martha has responded to rapid growth and change with enthusiasm and good stewardship. Today with 3,100 parishioners, the parish is committed to joyfully welcoming all who wish to share the mission of Jesus Christ and to working collaboratively with other Hikes Point area parishes to serve the needs of the broader community.