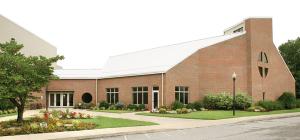 Clergy
Pastor: Rev. Joseph M. Rankin
Retired in Residence: Rev. Gerald L. Bell
Permanent Deacon: Kenneth J. Mitchell
Pastoral Staff
Director of Religious Education: Debbie Minton
Youth Minister: John Sohl
Business Manager: Roger Costello
Secretary: Sue Portman
Mass Schedule
Sundays — Sat evening: 4 p.m.; Sun: 10 a.m.
Holy Days — See bulletin
Daily — Tue, Fri: 8 a.m.
Reconciliation
Saturdays — 3:30 p.m.
History
Established in 1965 with Father Vincent Manger as the first pastor, St. Luke served the blue-collar and middle-income families traveling to St. Rita. The first Mass was celebrated in 1965 at St. Rita, and the first parish meeting, the first card party, and the first religious education classes were held that same year, also at St. Rita.
A rectory was completed by June 1966 and the first Mass on the premises was celebrated in the rectory basement. Construction of the church/education building began in July 1966, and although the first Mass was celebrated in the new church at Christmas 1966, the church was dedicated in 1967.
Parishioners established social activities including bingo, teen club, Boy Scouts, Brownie troop, and a choir, among others, and initiated religious education classes. They formed a steering committee in the early 1970s to study the feasibility of a school. Although St. Luke was denied permission to open a school in 1976, parishioners persisted, proving that the parish could support one. When permission was granted in April 1977, construction was undertaken, and St. Thomas More donated desks for the school, which opened in 1978 and operated until 1993.
An archdiocesan reorganization plan in 1995 included the closure of seven parishes, including St. Luke. After consultation with parish members, the Archdiocese decided that St. Luke was to remain open.
A fire in 1997 destroyed the entire church complex, reducing much of it to ashes. St. Luke parishioners—with grace and love—began reconstruction of a new church, dedicated in 2000.
Parishioners facilitated and participated in the first Region IV Renewal with four other parishes in 2004 (and another in 2005) and opened a media center to all Region IV parishes. A dedicated volunteer staff oversees daily operations for this parish of about 700 parishioners.