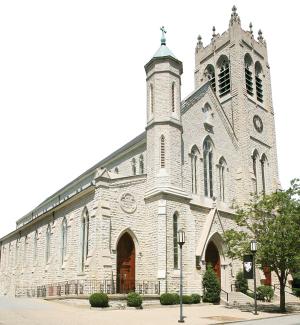 Clergy
Prior: Very Rev. Martin Martiny, O.P.
Pastor: Rev. Bernard Timothy, O.P.
Associate: Rev. Dominic Bump, O.P.
In Residence: Rev. J. Anthony Breen, O.P.; Rev. John Paul Kern, O.P.
Permanent Deacon: William R. Klump
Mass Schedule
Sundays — Sat evening: 4:15 p.m.; Sun: 7 a.m., 9 a.m., 10:30 a.m., 12 noon, 5:15 p.m.
Holy Days — Vigil: 5:30 p.m.; Holy Day: 7 a.m., 12 noon, 7:00 p.m.
Daily — Mon–Sat: 7 a.m., 12 noon
Reconciliation
Monday–Friday — 11 a.m.–11:45 a.m.
Wednesdays — 6 p.m.- 7 p.m.
Saturdays — 11 a.m.–11:45 a.m. and 3:30 p.m.–4 p.m.
Eucharistic Adoration
Wednesdays — 12:30 p.m.- 7 p.m.
Saturdays — 11 a.m.
History
Dominican Friars of the Order of Preachers came to Kentucky in 1805 and founded St. Rose Parish in Springfield. Nearly sixty years later, in 1865, they came to Louisville. Father Matthew Anthony O'Brien, the first pastor of St. Louis Bertrand, purchased three acres on the present St. Catherine Street. Many Irish Catholics clustered here, and the first Mass was said in a parishioner's home in 1866. A small frame chapel was constructed in 1867, and a school in 1868. The present English Gothic church was dedicated in 1873.
What characterizes St. Louis Bertrand is the partnership among the Dominican Friars, the dedicated, spirit-filled laity, and the Dominican Sisters (who ran the school until it closed in 1967).
Today more than 2,000 parishioners come from many areas for varied reasons: the church has been their family parish for generations; they are drawn to the preaching and the Dominican emphasis on a balanced human and spiritual life centered in the Eucharist, the Incarnation of Jesus, and the Holy Trinity; they like the architecture. More importantly, they are at home in a church they know and love.
Recent efforts have focused on the need to preserve and restore the magnificent church and other buildings. There is also renewed emphasis on the development of parish community, the parish council, other organizations, and outreach to college students and young professionals who are moving into the area.
Dominicans assigned to St. Louis Bertrand Priory offer Mass, preach, hear confessions daily, and provide sacramental ministry to parishioners and visitors. Accompanied by a lay staff, the Friars join with the Rosary Altar Society, the Knights of Columbus, the youth group, and the Third Order of St. Dominic in visiting the sick and homebound and carrying on parish ministry and life. The Emergency Aid Office provides food and financial assistance with rent and utilities for those who have fallen on hard times. The partnership continues.