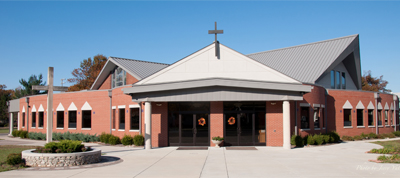 Clergy
Pastor: Rev. William P. Burks
Pastoral Staff
Pastoral Associate/Director of Religious Education: Bill Unruh
School Principal (Notre Dame Academy): Ashley Titus
Youth Minister: Open
Director of Worship/Music: Karen Kuenzig
Business Manager: Joyce Nelson
Secretary: Joan Mertz
Mass Schedule
Sundays — Sat evening: 500 p.m.; Sun: 8:30 a.m., 10:00 a.m.
Holy Days — See bulletin
Daily — Tue, Thu, Fri, First Sat: 8:15 a.m.
Reconciliation
First and Third Saturdays — 4:00 p.m., before the 5:00 p.m. Mass (in the Reconciliation Room) or by appointment.
Eucharistic Adoration
Wednesdays — 9 a.m.–7 p.m.
History
At its establishment in 1953 by Archbishop John A. Floersh, the territory of Saint Lawrence was carved from Saint Helen Parish. Those who attended the informational meeting about the new parish on November 11 that year became founding families.
By the time of the groundbreaking on February 26, 1955, the parish had grown from the original forty-five families to 420. During the first two years, Mass was celebrated in Alice Waller Elementary School on Dixie Highway. Father James R. Meder was the first pastor. Staffed by the Sisters of Charity of Nazareth (and later by the Ursuline Sisters of Mount Saint Joseph), the school opened in the fall of 1955. The parish was dedicated in May of 1955.
A forward-looking change was the birth of the school, Notre Dame Academy, which has since inspired the formation of two other regional schools in the South End of Louisville. Notre Dame is the result of the efforts of three parishes: Saint Denis, Saint Helen (the two now Mary Queen of Peace), and Saint Lawrence churches. These three parishes formed Notre Dame Academy to support an approach to Catholic school education that will ensure the affordability and accessibility of Catholic schools for years to come.
The continued growth of the parish has brought the number of registered families today to 718. The original buildings remain, although additions have been made to accommodate the community's growth. Due to the parishioners' generosity through the Building a Future of Hope Campaign, with Pastor Rev. Jeffrey P. Shooner, a major construction project was begun in September 2009, keeping a portion of the old structure along with the first cornerstone, which rests below the new one in the Gathering Space. The beautiful new church was rededicated by Archbishop Joseph E. Kurtz and Rev. Jeffrey P. Shooner on May 30, 2010, and now has a seating capacity of more than 700. Rev. William P. "Bill" Burks is the current pastor.
Longevity, stability, and a generous spirit describe St. Lawrence's nearly 2,150 parishioners, who live out their baptismal call by sharing their gifts through stewardship, growing in their understanding and love of God, and leading the children to holiness through transmission of the rich tradition of the Catholic faith.