Louisville
Established 1951
Registrations: 350
Address
Saint John Vianney Church
4839 Southside Dr.
Louisville, KY 40214-2111
Parish Information
Phone: (502) 366-5517
Phone: (502) 389-2728 (Mobile-Emergency)
Fax: (502) 366-3544
Email: franthonyngo@yahoo.com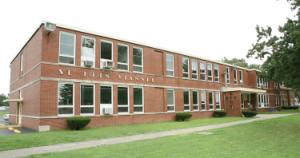 Clergy
Pastor: Rev. Anthony Chinh Ngo
Pastoral Staff
(An asterisk by staff's name indicates that he or she is a volunteer and cannot be routinely reached at the parish office. For questions about this area of ministry, please contact the parish office.)
Director of Religious Education/Parish Catechetical Leader: Sr. Trinh Thao Nguyen, SJP*
Youth and Young Adult Minister: Trinh Nguyen *
Director of Worship: Tin Truong*
Directors of Music: Dr. Luyen Cao*, Linh Ngo*
Business Manager/Bookkeeper: Tuyet Dinh*
Secretary: Kelly Nguyen*
Mass Schedule
Sundays — Sat evening: 4 p.m.; Sun: 9:30 a.m.(Vietnamese), 11 a.m. (Vietnamese)
Holy Days — Holy Day: 8 a.m., 8 p.m.
Daily — Mon–Sat: 8 a.m.
Reconciliation
30 minutes before weekend Masses
Eucharistic Adoration
First Sunday — 10:30 a.m. (For children)
Thursdays — 5:30 p.m.
History
Established in 1951, St. John Vianney continues to serve Catholics in southern Louisville. Under the leadership of the first pastor, Father Harold Ritter, a capital campaign for a church and school was initiated, and parishioners formed groups such as the Men's Club, a Christian family movement, a teen club, and others. The parish became the first in the Archdiocese to promote a Holy Family celebration on the feast of the Holy Family.
Staffed by the Sisters of Charity of Nazareth, a school opened in 1953 with 222 students. The Ursuline Sisters of Louisville followed in 1987. The school operated until financial difficulties closed it in 2004. Though parishioners had anticipated that a church would be constructed in the future, those plans never materialized, and Mass is celebrated in the original location in the school building.
Vietnamese immigrants transformed the parish in the 1990s. They established religious education classes, Pre-Cana, RCIA, Confirmation classes in Vietnamese, built the Shrine of Our Lady of La-Vang in 2001, and renovated the church's infrastructure in 2005 to include the diverse traditions of 900 parishioners of Vietnamese, African, and European descent.
Vietnamese-American parishioners initiated the Fathers Guild, Mothers Guild, Adult Christians, and Vietnamese Eucharistic Youth Society to support family life, assist with the administration and operation of the parish, and serve the community. The Vietnamese Eucharistic Youth Society, a non-profit organization, educates and involves young people. Enthusiastic young volunteers teach Bible studies, Vietnamese language and history, Christian morality, Christian life, and practical skills each Sunday. The group also volunteers at the Cathedral's soup kitchen, Sts. Mary & Elizabeth Hospital, and the Food for the Poor program at the parish.
This growing, stewardship community of 900 parishioners seeks to be a harmonious presence among immigrants of Buddhist, Muslim, and other faiths, serving the community, and spreading God's Word.