Eminence
Established 1873
Registrations: 85
Address
Saint John Chrysostom Church
(Please note: parish mailing address is different from its location.)
Location: 221 S. Penn St.
Eminence, KY 40019-2002
Parish Information
(Attended from Annunciation, Shelbyville)
Mail to: c/o Annunciation, 120 Main Street, Shelbyville, KY 40065-1022
Phone: (502) 633-1547 (Answered by Annunciation, Shelbyville)
Fax: (502) 633-1547
Email: psmith222@gmail.com.
Website: http://www.ourstj.org/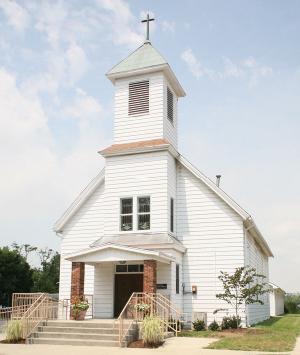 Clergy
Pastor: Rev. David G. Sánchez
Permanent Deacons: Joseph E. Bland, Robert J. Hart and John P. Strain
Pastoral Staff
Director of Religious Education/Youth Minister: Lynette Kessinger
Director of Worship: Deacon Brendan E. Kinsella
Director of Music: Sister Larraine Lauter, O.S.U.M.S.J.
Parish Manager: Pat Smith
Mass Schedule
Sundays — Sun: 8:00 a.m.
Daily — Wed: 6:30 p.m.
Holy Days — See bulletin
Reconciliation
Sundays — 9:00 a.m. before Mass
Eucharistic Adoration
First and Third Thursdays — 7 p.m. (with Benediction)
History
A mission church from its inception, St. John has never had a resident priest or school. The need for a Catholic spiritual home in Henry County was first documented in 1860, when Archbishop Martin John Spalding gave permission to erect a church building in Eminence. Construction began in the 1880s. Historical records are unclear as to an exact date this church was completed, but from earliest written records available, Mass was first celebrated in the church in 1890. It was dedicated under the patronage of Saint John Chrysostom.
Until that time, Masses were celebrated in the homes of Catholic families. When the Catholic church at Bedford was sold, the organ and art-glass memorial windows were removed and brought to Eminence to grace the otherwise plain structure of St. John. The Stations of the Cross were erected in 1892. A new organ was used for the first time in December 1908.
In the early years, the church was heated by a pot-bellied stove that warmed worshippers on cold Sundays. There were no restroom facilities. In 1988, a new church hall was built behind the church, providing badly needed space for meetings and social gatherings. Until that time, a home hosted parish activities. The church interior underwent a total renovation during the summer of 1992. At that time there were approximately fifty families at St. John, grown from eight families in 1958.
In October of 2005, St. John became handicap-accessible with the construction of a concrete ramp. Catholics of Henry County have been served by the priests from Shelbyville since the 1850s and most recently by priests from LaGrange. St. John currently has almost 200 parishioners.