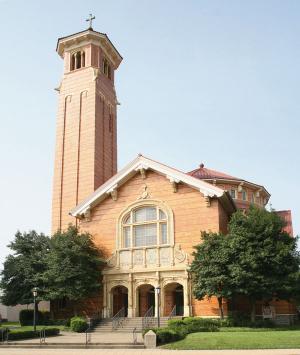 Clergy
Pastor: Rev. Gary T. Padgett
In Residence: Rev. John R. Burke
Permanent Deacon: William P. Tribbey
Pastoral Staff
School Principal: Dr. Jennifer Zimmerman
Director of Worship and Music: Phil Hines
Wedding Coordinator: Elizabeth Tribbey
Parish Manager: Mark Shircliffe
Parish Bookkeeper: Adelaide Hess
Administrative Assistant: Paula Rich
Mass Schedule
Sundays — Sun: 8:30 a.m., 11 a.m., 7 p.m.
Holy Days — Holy Day: 8:30 a.m., 7 p.m.
Daily — Mon–Fri: 8:30 a.m.
Reconciliation
Sundays — 6–6:30 p.m.
History
Launched in 1901 to serve the growing number of Highland-area Catholics, St. James had a nebulous status for five years after the pastors of St. Brigid and St. Agnes parishes objected to the "dismemberment" of their parishes and appealed to Rome. With those objections withdrawn by 1906, Father E. Earle Willett was appointed the first pastor, just four days before the first Mass was offered on September 7. Father Willett, pastor for forty-eight years, developed the habit of traveling the parish on foot, visiting families on their front porches.
Ten days after the first Mass, a school, staffed by the Ursuline Sisters of Mount St. Joseph, opened with thirty students. The parish quickly outgrew the church and school, and construction began for new church, dedicated in 1913, and a new school, dedicated in 1924. Today, committed lay teachers staff the school and an early childhood development program, established in 1996. Both operate at capacity enrollment.
The Louisville Landmarks Commission nominated the church, rectory, and school in 1980 for listing in the National Register of Historic Places Inventory. The parish clustered with St. Brigid in 1994.
The two parishes collaborate in outreach programs, including the St. Vincent de Paul Society, Highlands Community Ministries, Dare to Care, and many other charitable endeavors in the community; also with other area churches in Habitat for Humanity. They share staff but operate independently, and neither parish has lost its identity.