Saint James Catholic Church, Elizabethtown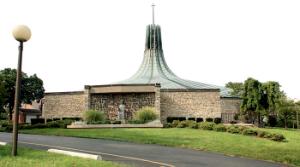 Clergy
Pastor: Very Rev. Martin A. Linebach (Also Vicar General)
Associate: Rev. J. Scott Murphy, Rev. Kirby B. Rust
Permanent Deacons: William V. Clark, Karl A. Drerup
Pastoral Staff
Director of Religious Formation and Education: Sister Augusta Nickel, O.P.
Director of Family Ministries: Sister Michaela Martinez, O.P.
School Principal: Sister Marie Hannah Seiler, O.P.
Director of Liturgical Ministries: Dean Sears
Parish Organist/Choir Director: Tim Watts
Director of Mission Advancement: Jennifer Hartlage Moran
Accounting Manager: Alaina Ray
Pastoral Administrative Assistant: Fabiola J. Sánchez
Mission Advancement Assistant: Lauren Overstreet
Receptionist/Administrative Assistant: L. Gail Hereford
Mass Schedule
Sundays — Sat evening: 5 p.m.; Sun: 8 a.m., 10 a.m., Noon; 5 p.m. (Spanish)
Holy Days — 8 a.m., Noon, 6:30 p.m.
Daily — Mon: 6:30 p.m.; Tue–Fri and Sat: 8.a.m. (Wednesday Mass at Saint James School if school is in session)
Reconciliation
Mondays — 7–8 p.m. (following 6:30 p.m. Mass)
Saturdays — 3–4 p.m.
Eucharistic Adoration
Mondays — 7–10 p.m.
Tuesdays, Wednesdays, Thursdays — 8:30 a.m. to 12:30 p.m. (When school is in session Eucharistic Adoration on Wednesday morning will begin at 9:15 a.m.)
Fridays — 8:30 a.m.–5:30 p.m. (following 8:00 a.m. Mass)
Saturdays — 8:30-9 a.m.
History
As Catholic pioneers from Maryland branched out to Hardin County, a cluster around Elizabethtown developed into a mission in 1851. Father Terrence J. Disney resided here briefly in 1867. The Sisters of Loretto began a school in 1870, first named St. Mary's Academy and renamed Saint James School in 1920. Father Augustine Degauquier was the first resident pastor.
Saint James now worships in its third church building in the same prominent location: the first from 1852 to 1884; the second from 1884 to 1970; the third erected in 1970. The current church implemented the changes called for by the Second Vatican Council. This outstanding example of modern architecture embraces the congregation with beauty and grace in order to engage all the senses in worship.
From its rural beginnings, Elizabethtown and the surrounding Hardin County have developed with industry and a regional medical center. With nearly 4,000 parishioners today, Saint James has expanded its ministries to meet new needs. 67 volunteers take communion daily to 11 nursing and rehabilitation facilities, to the homebound, and to the regional hospital. A television ministry broadcasts Sunday Mass on the local cable channel for the sick and homebound.
Education has always been important to Saint James. Although Elizabethtown Catholic High School closed in 1969, it bequeathed a rich tradition. Its alumni/ae strongly support Saint James Catholic School, which is thriving with nearly 400 Pre-K through 8th Grade students. Saint James is now the regional school for Hardin County, as others were forced to close because of dwindling numbers and rising costs. Students, well grounded in Catholic teaching, eventually become leaders within the church and community who continued the legacy started more than 150 years ago by a small band of faithful Catholics.
Hardin County is experiencing rapid population growth, including more people from different cultures.  Saint James is well poised to meet the future and looks forward to welcoming new members.