Glasgow, Barren Co.
Established 1893
Registrations: 348
Address
Saint Helen Church
(Please note: parish office and mailing address is different from its location.)
Location: 103 W. Brown St.
Glasgow, KY 42141-2101
Parish Information
Office and Mailing Address: 230 Cavalry Dr., Glasgow, KY 42141-1034
Phone: (270) 651-5263
Email: sthelen@glasgow-ky.com
Website: http://www.sthelenolc.org/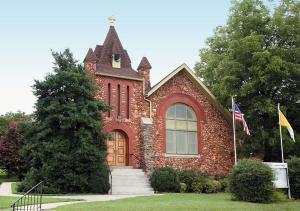 Clergy
Pastor: Rev. Ben Cameron, C.P.M.
Associate: Rev. Victor A. Moratin, C.P.M.
Permanent Deacons: Lee G. Bidwell, David U. Smith
Pastoral Staff
(An asterisk by staff's name indicates that he or she is a volunteer and cannot be routinely reached at the parish office. For questions about this area of ministry, please contact the parish office.)
Director of Religious Education: Dr. Cheryl Whitlow*
Director of Music:  Gregory McCord
Business Manager: Therese Beakes
Mass Schedule
Sundays — Sat evening: 5 p.m.; Sun: 8 a.m. (Spanish), 10 a.m., 11:30 a.m., 2 p.m. (EF-Latin; only held on First Sunday), 5:00 p.m.
Holy Days — See bulletin
Daily — Mon, Wed, Fri: 12:05 p.m.; Tue, Thu, Sat: 8 a.m.
Reconciliation
20 minutes before all weekday and weekend Masses
Saturdays — 4–5 p.m.
Eucharistic Adoration
Mondays and Wednesdays — 11:00 a.m.–Noon
Tuesdays — 1:00–4:00 p.m. (Our Lady of Fatima Chapel in the Parish Center)
Fridays — 3–9 p.m. (Except on First Fridays when it is held from 7 a.m.–9 p.m.)
Saturdays — 8:30 a.m.–9:30 a.m.
History
Four women, converts to Catholicism, spearheaded the interest in a church for Glasgow in 1893. From 1878, priests had been visiting the Glasgow mission station monthly to say Mass in private homes, and one resided briefly. These four women and others gathered stones from local fields and brought them by horse and cart to the small town. The community, Catholics and non-Catholics alike, together constructed St. Helen Church with the fieldstones. One generous donor, the Duke of Norfolk, is remembered by a stained-glass window that bears his name.
After years as a mission of After years as a mission of St. Joseph, Bowling Green, of Sacred Heart, Russellville and then of the Cathedral, Glasgow welcomed Father Joseph L. Wheatley's move to the town in 1947. He bought a house to serve as a rectory in 1950, and near Horse Cave, Kentucky, he built Our Lady of the Caves Mission Church, which was blessed in 1954. The Fathers of Mercy came to Glasgow in 1959 and continue to serve. With resident pastors, St. Helen became a parish.
The parish has grown gradually to over 1,000 parishioners, but the Catholic population in Glasgow is still less than one percent. One of the Sunday Masses is celebrated in Spanish. A catechetical program, adult Bible study, and religious education nourish the faith among parishioners. The parish center, built in 1990, houses these programs.
St. Helen continues to spread the faith in Glasgow through pro-life activities, visiting the sick, and the food pantry program. The Knights of Columbus aid the community through the Tootsie Roll drive and Christmas food baskets for the poor. The Auxiliary of Our Lady provides Christmas gifts to needy children. The parish family is strengthened through daily Mass and regular Confessions, as well as devotions such as Eucharistic Adoration.