Saint Gabriel the Archangel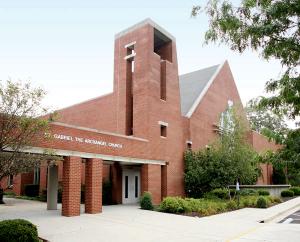 Clergy
Pastor: Rev. John A. Schwartzlose
Associate: Rev. Sean D. McKinley
Permanent Deacons: T. Stephen Bowling, Michael J. Fitzmayer
Pastoral Staff
Coordinator of Adult Faith Formation: Therese Brennen
Coordinator of Youth and Young Adult Formation: Anna Peterson
Coordinator of Children's Faith Formation: Mary Jane Choi
School Principal: Pam Huelsman
Director of Music: Jessica Mills
Business and Development Manager: Amanda Wolz
Finance Manager: Pam Terwilliger
Administrative Assistants: Mary Rose Battcher, Janey Miller, Margaret Reinert
Mass Schedule
Sundays — Sat evening: 5 p.m.; Sun: 8 a.m., 10 a.m., Noon
Holy Days — Holy Day: 8:15 a.m., 7 p.m.
Daily — Mon–Sat: 8:15 a.m.
Reconciliation
Saturdays — 3:00–4:00 p.m.
Eucharistic Adoration
Mondays — 9 a.m.–9 p.m.
History
As the number of Catholics in the Fern Creek area grew and General Electric opened in nearby Appliance Park, Archbishop John A. Floersh established St. Gabriel Parish in 1953. Late that year, the pastor was presented with $4,800, collected by residents of Fern Creek since 1909, to help construct St. Gabriel church and school. Father James G. Emrich was the first pastor.
In the beginning, Mass was celebrated in Fern Creek High School's auditorium. On 8.5 acres, construction began on a combination church and school. A rectory was completed in 1954. Then, as now, the men and women of the parish donated their time and talent to hold down building costs.
Today, St. Gabriel is the largest parish in the Archdiocese with 2,111 families (6,600 parishioners) and one of the largest schools in the Archdiocese, with 743 students (preschool-8th grade) and a religious education program of 82 students. In 1994, an ambitious building program was completed. It included a church, a multi-purpose building, and the renovation of the former church for school classrooms and parish staff offices. In August 2001, further renovations and additions were done to kitchen, cafeteria, library, computer rooms, classrooms, childcare area, parish offices, and work areas. In the summer of 2015, an extensive preschool renovation was completed, which supports the parish strategic plan. The new facility will accommodate increased capacity from 70 to 106 three-year-old and four-year-old students for full time preschool. This facility will also help to accommodate up to 250 students in the after school care program.
Lay involvement in the mission and ministry of this largest parish in the archdiocese is more important than ever. Parishioners give their time and talent to building up the local community, living St. Gabriel's mission of praising God, proclaiming the Good News, serving others, and building community.