Saint Gabriel the Archangel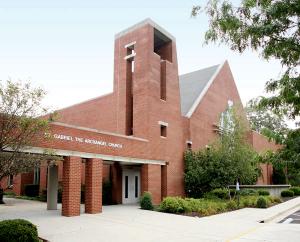 Clergy
Pastor: Rev. John A. Schwartzlose
Permanent Deacons: T. Stephen Bowling, Michael J. Fitzmayer
Pastoral Staff
Coordinator of Adult Faith Formation: Therese Brennan
Director of Youth and Young Adult Ministry: Nichole Kendall
Coordinator of Children's Faith Formation: Mary Jane Choi
School Principal: Lara Krill
Director of Music and Worship: Eric Chu
Business and Development Manager: Amanda Wolz
Finance Manager: Pam Terwilliger
Community Activities Manager: Tim McGinty
Coordinator of Marketing & Promotions: Matt Lambert
Administrative Assistants: Mary Rose Battcher, Susie Bennett, Janey Miller, Margaret Reinert
Mass Schedule
Sundays — Sat evening: 4 p.m.; Sun: 8 a.m., 10 a.m., Noon
Holy Days — Holy Day: 8:15 a.m., 7 p.m.
Daily — Tue–Fri: 8:15 a.m.
Communion Service
Mon, Sat: 8:15 a.m.
Reconciliation
Saturdays — 2:30–3:30 p.m.
Eucharistic Adoration
Mondays — 9 a.m.–9 p.m.
History
At Saint Gabriel the Archangel Catholic Parish, our mission is to be a caring, welcoming community, seeking to praise God in our prayer and work, nurture growth in the Catholic faith, and compassionately serve others.
We are rooted in tradition, but not stuck in it. Saint Gabriel Parish was established in 1953 by Archbishop John A. Floersh, as the number of Catholics in the Fern Creek area grew, and General Electric opened in nearby Appliance Park. Father James G. Emrich was the first pastor. In the beginning, Mass was celebrated in Fern Creek High School's auditorium. Late that year, the pastor was presented with $4,800, collected by residents of Fern Creek since 1909, to help construct St. Gabriel the Archangel church and school on the 8.5-acre property that is our current campus. A rectory was completed in 1954. Then, as now, the men and women of the parish donated their time and talent to hold down building costs.
As of January 2020, St. Gabriel is one of the largest parishes in the Archdiocese with 2,102 families (6,552 parishioners) and one of the largest schools in the Archdiocese, with 686 students (preschool-8th grade) and a religious education program of 75 students.
Saint Gabriel the Archangel is a vibrant, thriving parish that continues to grow. In 1994, an ambitious building program included a church, a multi-purpose building, and the renovation of the former church for school classrooms and parish staff offices. In August 2001, we built the Nazareth Center to accommodate a library, computer lab, junior high and preschool. In the summer of 2015, we renovated the preschool facility to accommodate up to 103 three-year-old and four-year-old students for full-time preschool and Junior Kindergarten, and up to 200 students in the after-school-care program. In July 2016, we purchased 18 acres of land upon which to create a common dream—St. Gabriel Park—which will be developed to include athletics fields, community gardens and retreat facilities.  In May 2018, we opened a half-acre Natural Playpark, the first of its kind in the Archdiocese system, which includes fourteen interactive play areas such as a sand play area, slide and Ga Ga ball court.
Lay involvement in the mission and ministry of this parish is more important than ever. We have an engaged parish that continually looks for community outreach opportunities. Every year, our Men's Club runs the popular Codfather Cafe Lenten Fish Fries on Fridays during Lent and our parish runs one of the largest Summer Festivals in Louisville the first weekend of August. Parishioners give their time and talent to building up the local community, living our vision to be  "The Catholic community where you encounter Jesus Christ each and every day in each and every person."