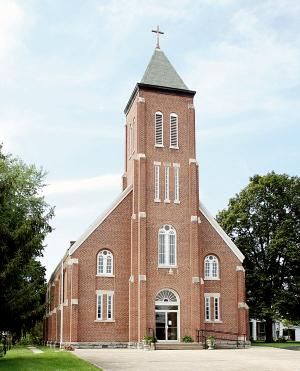 Clergy
Pastor: Rev. David W. Naylor
Pastoral Staff
Business Manager: Kelly Lucas
Bookkeeper: Mary Jones
Mass Schedule
Sundays — Sat evening: 4 p.m. (1st & 3rd Sat) 5th Saturday will rotate with St. Charles, St. Mary; Sun: 8:45 a.m.
Holy Days — See bulletin
Daily — Tue, Wed: 9 a.m.
Reconciliation
First Saturdays — 3:20–3:55 p.m.
Eucharistic Adoration
Tuesdays — After 9:00 a.m. Mass
History
Out of the Indian hunting grounds of the Rolling Fork River and the forests of southwestern Marion County, English colonists from Baltimore carved the settlement of Raywick in the late 1700s. By 1837, Father L.N. Petit, S.J., had built the first church, which subsequently was destroyed by fire, but quickly replaced by the present structure in 1887. Jesuits served the parish until 1846, when diocesan priests assumed responsibility.
Shaping the faith of the young of the area were the Sisters of Loretto who served from the late 1880s and the 1890s, the Sisters of Charity of Nazareth in the early 1900s and the Ursuline Sisters of Mount St. Joseph from 1940 to 1979. Thirteen young women from the parish joined them in religious life.
Through the 170-year history of the Raywick faith community, two native sons have been ordained to the priesthood, and forty-one priests have served in the parish, including: Fathers Robert Brown (1957-1966), Thomas Caldwell (1966-1983), and Clarence Schwartz (1983-1998).