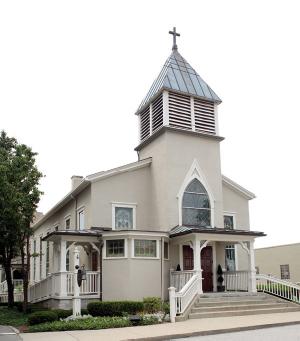 Clergy
Pastor: Rev. Louis J. Meiman
Pastoral Staff
Pastoral Associate: Sharon Coonan
Director of Family Formation: Andrew Hennessy
Music Director: Rick Knoop
Parish Community Administrator: Steve King
Administrative Assistant: Ria Drago
Mass Schedule
Sundays — Sat evening: 6 p.m.; Sun: 8:30 a.m., 11:30 a.m.
Holy Days — See bulletin or call parish office
Daily — Mon–Fri: 8:30 a.m.
Reconciliation
By Appointment
History
As Louisville spread eastward along two streets, Frankfort Avenue and Bardstown Road, two churches were established to accommodate the growth—Saint Francis of Assisi in 1886 and Saint Frances of Rome in 1887. Father Thomas Walter White was the founding pastor of the latter.
An elementary school opened in 1890 and was housed in the Saint Frances of Rome church structure. The current school building, constructed by 1930, served as the parish school until 1975 and thereafter was home to various organizations, theater groups, and a school for the learning-disabled.
From 1991 until mid-2017 the school building and theater were leased to a 501-C3 non-profit corporation:  The Clifton Center.  Beginning July 1, 2017 the school building and theater will be leased to Holy Trinity Parish and restored to its original use as a Catholic educational/theatrical center.
Saint Frances of Rome is extremely proud of the 500-seat Eifler Theater.
Today, Saint Frances of Rome is an active and vibrant faith community with more than 1,000 parishioners. The parish includes many "associate members"- a unique concept that allows those with family and historic connections in another parish to attach themselves to the warm and inviting atmosphere that is the cornerstone of our parish life.
Even without a school, the parish has 52 children who receive religious nurturing through the education programs of the parish.