Saint Elizabeth of Hungary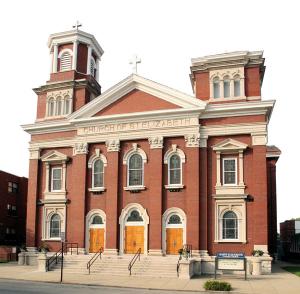 Clergy
Pastor: Rev. Philip L. Erickson
In Residence: Rev. Donald M. Hill
Permanent Deacon: Timothy E. Stewart
Pastoral Staff
Liturgy Coordinator: Regina Herdt
Business Manager: Lisa Baxter
Bookkeeper: Elaine Hambleton
Secretary: Clare Vize
Mass Schedule
Sundays — Sun: 9 a.m., 7 p.m.
Holy Days — See bulletin
Reconciliation
Sundays — 6–6:30 p.m.
History
Saint Elizabeth of Hungary was established in 1906 in a section of town known for shotgun houses, shops, and taverns and popularly referred to as "Schnitzelburg." The parish served second-and third-generation German immigrants, led by Father James Assent, a German immigrant and the first pastor.
Father Assent opened a combination church and school in 1906, with 200 students. Staffed by the Ursuline Sisters of Louisville, the school grew into one of the largest Catholic grade schools in the Archdiocese, with more than one thousand students, and it produced powerful athletic teams, committed youth, and many successful graduates.
Parishioners formed several organizations, including a Boy Scout group, the Kids of St. Elizabeth Teen Club, a Parent-Teachers Association, and chapters of the St. Vincent de Paul and St. Joseph's Orphans Societies, among others. Innovative evangelization events have included hosting open houses at the church for non-Catholics. Parishioners also have implemented outreach ministries allowing Eucharistic Ministers to bring Holy Communion to the homebound and to elderly persons unable to come to the church.
By 1992, the parish had been subdivided several times, and the children were not so numerous; therefore, in collaboration with Saint Therese Parish and Saint Louis Bertrand Parish, the consolidated school of Saint Rose was formed. It closed in 2004.
The church, a strong presence in Schnitzelburg for more than 100 years, continues to welcome many former parishioners and loyal alumni/ae of the school in its large, beautiful worship space. While it continues to serve long-time parishioners, and it is refocusing its mission to meet the social and spiritual needs of an older population, the parish remains a welcoming place for young families, youth, and young adults. In 2012, Saint Elizabeth, Our Mother of Sorrows, and Saint Therese formed a collaborative to share staff and ministry. The success of that collaboration continues today.