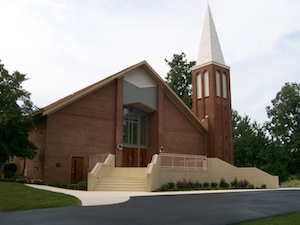 Clergy
Pastor: Rev. Jeffrey G. Hopper
Permanent Deacons: Joseph D. Calvert and John A. Grant, Jr.
Pastoral Staff
(An asterisk by staff's name indicates that he or she is a volunteer and cannot be routinely reached at the parish office. For questions about this area of ministry, please contact the parish office.)
Pastoral Associate for Sacraments and Formation: Glory Kramer
Youth Ministry Coordinator: Ashley Law
Bookkeeper: Renee Jenkins
Secretary: Kathy Jordan
Mass Schedule
Sundays — Sat evening: 4 p.m.; Sun: 8 a.m.,Noon
Holy Days — See bulletin
Daily — Mon, Fri: 9 a.m.; Wed: 6 p.m.
Reconciliation
Mondays — 12–1 p.m.
Wednesdays — 5–5:45 p.m. (During Eucharistic Adoration)
Saturdays — 3–3:45 p.m.
Eucharistic Adoration
Wednesdays — 9 a.m.–5 p.m. (with Benediction at 5:00 pm)
History
Saint Christopher is a vibrant Catholic parish serving the communities of Radcliff and Fort Knox, Kentucky. It was established in 1958, just two years after the incorporation of the city of Radcliff. Mass was first celebrated in the auditorium of the Radcliff Elementary School for some 100 families, and Murphy's Sandwich Shop was the site for meetings and confessions. Almost immediately, fundraising was set in motion. Plans were made to build a church, a school, and a rectory; and so, after acquiring land, ground was broken for the new buildings. Father Earl J. Rausch was the founding pastor.
Saint Christopher School opened for grades one to four in fall 1959, with sixty-seven students. Construction of the church was completed in 1960. As the parish grew over the years, a new church building was later constructed in 1982, during the pastorate of Father Ivo Cecil. Also in 1960, the school added grades five to eight. A year later, ground was again broken, this time for a convent for the Ursuline Sisters of Mount Saint Joseph, who taught in the school. Sadly, due to declining enrollment, the school closed in 2005, but the religious educational needs of families are now being met through CCD and adult faith formation programs.
Here at Saint Christopher the pastor, staff, and volunteers all work hard to ensure that parishioners – the "old timers" of the parish as well as to those coming to us in military or government service – are equipped to carry out the mission of "Bearing Christ to Our Community."  Those new to the area or who have been here for a while are invited to visit and join the parish. Here you will find the faith and love needed to grow in your relationship with Jesus Christ through the proclamation of the Gospel, the celebration of the sacraments, the faithful teaching of the Church, and the friendship of a welcoming community. With about 1,100 parishioners, the parish is an active, vital feature of the landscape of north Hardin County and an integral part of the mosaic of parishes in the Archdiocese of Louisville.