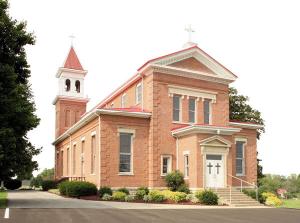 Clergy
Pastor: Rev. David W. Naylor
Pastoral Staff
Coordinator of Religious Education: Lisa Sandusky
Office Manager: Grace Browning
Bookkeeper: Mary Jones
Mass Schedule
Sundays — Sat evening: 4 p.m. (2nd and 4th Sat) 5th Saturday will rotate with Saint Francis Xavier, Raywick; Sun: 10:30 a.m.
Holy Days — See bulletin
Daily — See bulletin
Reconciliation
See bulletin
History
The Hardin Creek Settlement that later became St. Charles Parish in St. Mary began in 1786 when members of the Emigration League in Maryland settled on Kentucky farms. Father Stephen Badin, of historic fame, cared for the spiritual needs of the people before the venerable Father Charles Nerinckx built the first church in 1806, naming it for his own patron saint. Before that, worship was long held in the home of Henry Hagan. In 1809 there were 259 registered in the Holy Name Society.
Father Nerinckx established the Little Society that eventually became the Sisters of Loretto, the first group of whom made their vows in St. Charles Church. The Sisters opened Calvary Academy in 1816 and taught there until 1900. Another community that influenced generations by their teaching was the Ursuline Sisters of Mount St. Joseph. A stand-in for Father Nerinckx, Father William Byrne, originated St. Mary College in 1821. The second resident pastor, Father David A. DeParcq, built the first brick church in 1832. It served until 1905 when the present church was erected.
If their ancestors were farmers with the Mass schedule revolving around the milking schedule, today's generation of nearly 550 parishioners are formed to assume leadership roles as the People of God, whether on tractor or in the marketplace. Just as mothers and fathers taught catechism in the years before the Sisters came, today's parents and teachers at St. Charles continue in a long tradition.
Parishioners presently proclaim the Word during liturgy, distribute the consecrated bread and wine, and sing God's praises. The roles will proliferate, and the spirits who have never left this historic parish will rejoice in their harvest becoming a hundredfold.